How to play Tales of Wind on PC with keyboard mouse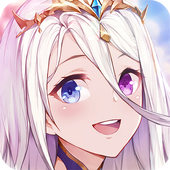 MEmu Android Emulator helps you to play Tales of wind on PC.As a new open world romantic adventure mobile game, Laplace M is based on magic in medieval settings. The BGM of the game is produced by Motoi Sakuraba, who is the main music composer of some famous console games.Here is the guide to teach you how to play Laplace M on PC with MEmu App Player.
Step by step to play Tales of Wind on PC
We highly recommend playing Tales of wind on PC using MEmu Android emulator. If you haven't downloaded already, please install it here.
Then you can download Tales of wind from Google Play. Alternatively, if you would like to directly install the APK offline file, you can download it from third party download sites like Apkpure.
Install Tales of wind from Google Play in MEmu Android Emulator is straight-forward. Alternatively, you can also click APK button on MEmu side toolbar to install Tales of wind APK offline file on your PC pretty easy.
Once installed, Tales of wind icon will show up on MEmu home screen. Simply click the icon to launch this game then it and the then it begins to download game resources.
Finally you will able to play Tales of wind on your computer!
Tales of Wind Game Features
An action MMORPG with cute characters and soothing experience
-Customize yourself with tons of outfits
-Capture and travel with cute pets and mounts
Equip Cards of power and transform now
-Defeat powerful monsters and seal them in soul Cards which grant you superior power
-Transform into monsters to use their powerful skills
Team up with your friends to explore a vast world
-Well-designed PVE dungeons require good team Co-operation
Tons of innovative gameplay modes
-Racing, shooting, quiz and more than 20 different casual modes
Meet your destined romance in your adventure
-Encounters your soul mate in the journey
-Complete the 2-Players tasks with your wisdom and courage -Pledge to love in the church with the priest
-Manage the lovely farm only for you two
Value yourself and empower the kingdom
-Complete the kingdom missions with players all over the world to promote the course of history
Fight for the honor of guild
-Defeat other guilds with strategy and power in GVG battles
-Party, feast and quiz events, enjoy your guild life with comrades
Let the wind tell your brave tales
-Show your courage and skills in Real
-time PVP Arena -Make your own elite team and fighting for victory  
Video Guide to play Tales of Wind on PC
For more details about MEmu Android Emulator
>> Back to MEmu 101, everything you need to know about MEmu <<
Official Website:https://www.memuplay.com
Official Twitter:https://twitter.com/MicrovirtMEmu
Facebook Page:https://www.facebook.com/memuplayer
MEmu User Group:https://www.facebook.com/groups/memuplayer