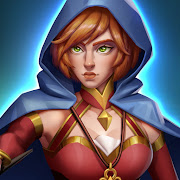 Puzzle Quest 3 - Match 3 RPG
PC'de Puzzle Quest 3 - Match 3 RPG özellikleri
With all your passion for playing Puzzle Quest 3 - Match 3 RPG, you hands are not supposed to be limited on a tiny screen of your phone. Play like a pro and get full control of your game with keyboard and mouse. MEmu offers you all the things that you are expecting. Download and play Puzzle Quest 3 - Match 3 RPG on PC. Play as long as you want, no more limitations of battery, mobile data and disturbing calls. The brand new MEmu 8 is the best choice of playing Puzzle Quest 3 - Match 3 RPG on PC. Prepared with our expertise, the exquisite preset keymapping system makes Puzzle Quest 3 - Match 3 RPG a real PC game. MEmu multi-instance manager makes playing 2 or more accounts on the same device possible. And the most important, our exclusive emulation engine can release full potential of your PC, make everything smooth.
Puzzle Quest 3 - Match 3 RPG PC'in ekran görüntüleri ve Video
Puzzle Quest 3 - Match 3 RPG'i MEmu Android Emülatör ile PC'ye indirin. Büyük ekranda oynamanın keyfini çıkarın. ✦Pre-Registration Event✦Pre-Register now to earn greater rewards at launch.
Oyun bilgisi
✦Pre-Registration Event✦
Pre-Register now to earn
greater rewards at launch.
Potential rewards include
powerful gear
,
valuable resources
, and
even a cute dragon minion
at official release!
Learn more at our website at www.PuzzleQuest3.com/preregister to
discover additional ways to help unlock community rewards!
✦Game Description✦
Master strategic match-3 combat in
Puzzle Quest 3
, the
all-new installment to the globally renowned puzzle-RPG franchise
. Prepare yourself for an epic journey across Etheria, a dangerous fantasy realm filled with enemies to conquer and loyal allies to recruit.
Explore mythical dungeons, uncover valuable loot, and unlock epic gear as you embark on a brand-new epic storyline to
become the next Puzzle Quest legend!
Embark on an adventure to discover:
NEWLY EVOLVED PUZZLE BATTLES
Match gems in any direction to charge up your spells and unleash powerful attacks in action-packed 1-on-1 battles. A lot can happen in a single turn - planning is the key to victory.
EMBARK ON A HERO'S JOURNEY
Choose the hero you want to be! Play as a Paladin, Berserker, Shaman, Assassin, or Necromancer, and discover a variety of storylines as you level up, build your hero's skills, and acquire new weapons, armor, and more!
SIGNATURE DEEP RPG GAMEPLAY
Become the hero of your own making by gaining experience and loot from your quests. Select from hundreds of different weapons and armor to sharpen your combat skills and take on increasingly powerful foes.
PVP ACTION AND REAL-TIME MULTIPLAYER COOP
Battle fellow heroes in PVP and climb the leaderboards, or form an alliance with up to three friends and traverse the deepest dungeons together in real-time!
BEAUTIFUL 3D GRAPHICS
Experience fully animated battles with true 3D graphics never-before-seen in a match-3 game!
EPIC LOOT AND REWARDS
Defeat your enemies and complete quests to obtain valuable loot, then upgrade your gear and prepare for the next battle.
REGULAR UPDATES, DAILY QUESTS, AND WEEKLY BOUNTIES
Stay tuned for regular updates and new events, including new quests to complete and bounties to claim.
✦Follow Us✦
Sign-up for news updates at:
www.PuzzleQuest3.com
Join the discussion at our dedicated forums:
http://505.games/PQ3Forums
Facebook:
http://505.games/PQ3Facebook
Twitter:
@PuzzleQuest3
PC'de Puzzle Quest 3 - Match 3 RPG nasıl indirilir
1. MEmu yükleyicisini indirin ve kurulumu tamamlayın

2. MEmu'yu başlatın ve ana sayfada Google Play'i açın

3. Google Play'de Puzzle Quest 3 - Match 3 RPG arayın

4. Puzzle Quest 3 - Match 3 RPG indirin ve yükleyin

5. Kurulum tamamlandığında başlamak için simgeye tıklayın

6. PC'de MEmu ile Puzzle Quest 3 - Match 3 RPG oyunun keyfini çıkarın
Neden Puzzle Quest 3 - Match 3 RPG için MEmu kullanın
MEmu App Player, en iyi ücretsiz Android emülatörüdür ve 50 milyon insan zaten mükemmel Android oyun deneyimini yaşamaktadır. MEmu sanallaştırma teknolojisi, binlerce grafik oyunu hatta grafikte en yoğun olanları bile sorunsuz bir şekilde bilgisayarınızda oynamanızı sağlar.
Daha büyük ekranla daha iyi grafiklere sahip; Pil veya mobil veri sınırlaması olmaksızın uzun süre.

Keymapping klavye ve fare veya gamepad'in hassas kontrolü için destek verir.

Multi-Instance yöneticisi ile tek bir bilgisayarda aynı anda birden fazla oyun hesabı veya görev gerçekleşilebilir.
Oynamaya hazır mısınız?