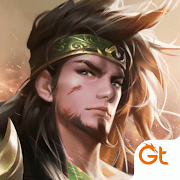 Dynasty Origins: Conquest
PC'de Dynasty Origins: Conquest özellikleri
With all your passion for playing Dynasty Origins: Conquest, you hands are not supposed to be limited on a tiny screen of your phone. Play like a pro and get full control of your game with keyboard and mouse. MEmu offers you all the things that you are expecting. Download and play Dynasty Origins: Conquest on PC. Play as long as you want, no more limitations of battery, mobile data and disturbing calls. The brand new MEmu 8 is the best choice of playing Dynasty Origins: Conquest on PC. Prepared with our expertise, the exquisite preset keymapping system makes Dynasty Origins: Conquest a real PC game. MEmu multi-instance manager makes playing 2 or more accounts on the same device possible. And the most important, our exclusive emulation engine can release full potential of your PC, make everything smooth.
Dynasty Origins: Conquest PC'in ekran görüntüleri ve Video
Dynasty Origins: Conquest'i MEmu Android Emülatör ile PC'ye indirin. Büyük ekranda oynamanın keyfini çıkarın. Dynasty Origins: Conquest is the newest 「Dynasty Origins」 work by Youzu Games.
Oyun bilgisi
Dynasty Origins: Conquest is the newest 「Dynasty Origins」 work by Youzu Games. With a customizable 4x4 layout, new outstanding generals and alliances, command and conquer your way to the throne!
【Customize Your Formation】
Customize your formation, and strategize before battles! A new 4x4 layout that subverts traditional card strategies is here. In this game, the Three Kingdoms generals are split into six types: Guardians, Heavy Cavalry, Light Cavalry, Archers, Infantry and Support. Players can mix and match their formations according to the enemy's layout to land a surprise blow on the opponents!
【GvG Cross-Server City Conquest】
World warfare! GvG cross-server city conquest! Four big factions gather for an exhilarating battle. With intense cross-server gameplay and alliances competing for the top, becoming #1 isn't just a pipe dream!
【Mix & Match Skills】
With an endless variety of skills that you can mix and match, create your own unique combat style! Switch up your skills at any time in battles to swiftly defeat enemies!
【PvP Battles to Decide the Season Champion】
A brand new season-based gameplay, new monthly rewards and challenges are online now! Will you be eliminated, or will you be the one to reach the throne?
【Strengthen heroes, forge your formation】
Uncover the hidden secrets behind making your heroes stronger! Six different types of generals are waiting for your steady guidance. Pick out your favorite heroes, and create a lineup you love!
【Fantastic Daily Rewards】
Sign in daily to receive amazing rewards! You can also check the community often for high-value gift codes. Seize every opportunity to get free gifts, and you'll be one step closer to conquering the throne!
Dynasty Origins: Conquest Pre-registration Site: https://doc.gtarcade.com/pre
Dynasty Origins: Conquest Official Facebook: https://www.facebook.com/dynastyoriginsconquest
Millions of people are playing this card strategy game! Don't be the only one missing out!

PC'de Dynasty Origins: Conquest nasıl indirilir
1. MEmu yükleyicisini indirin ve kurulumu tamamlayın

2. MEmu'yu başlatın ve ana sayfada Google Play'i açın

3. Google Play'de Dynasty Origins: Conquest arayın

4. Dynasty Origins: Conquest indirin ve yükleyin

5. Kurulum tamamlandığında başlamak için simgeye tıklayın

6. PC'de MEmu ile Dynasty Origins: Conquest oyunun keyfini çıkarın
Neden Dynasty Origins: Conquest için MEmu kullanın
MEmu App Player, en iyi ücretsiz Android emülatörüdür ve 50 milyon insan zaten mükemmel Android oyun deneyimini yaşamaktadır. MEmu sanallaştırma teknolojisi, binlerce grafik oyunu hatta grafikte en yoğun olanları bile sorunsuz bir şekilde bilgisayarınızda oynamanızı sağlar.
Daha büyük ekranla daha iyi grafiklere sahip; Pil veya mobil veri sınırlaması olmaksızın uzun süre.

Keymapping klavye ve fare veya gamepad'in hassas kontrolü için destek verir.

Multi-Instance yöneticisi ile tek bir bilgisayarda aynı anda birden fazla oyun hesabı veya görev gerçekleşilebilir.
Oynamaya hazır mısınız?