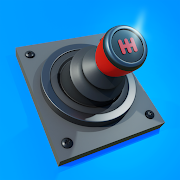 PC'de Gear Race 3D özellikleri
With all your passion for playing Gear Race 3D, you hands are not supposed to be limited on a tiny screen of your phone. Play like a pro and get full control of your game with keyboard and mouse. MEmu offers you all the things that you are expecting. Download and play Gear Race 3D on PC. Play as long as you want, no more limitations of battery, mobile data and disturbing calls. The brand new MEmu 8 is the best choice of playing Gear Race 3D on PC. Prepared with our expertise, the exquisite preset keymapping system makes Gear Race 3D a real PC game. MEmu multi-instance manager makes playing 2 or more accounts on the same device possible. And the most important, our exclusive emulation engine can release full potential of your PC, make everything smooth.
Gear Race 3D PC'in ekran görüntüleri ve Video
Gear Race 3D'i MEmu Android Emülatör ile PC'ye indirin. Büyük ekranda oynamanın keyfini çıkarın. Shift the gear at the right time and beat your rivals in Gear Race 3D!
Oyun bilgisi
Shift the gear at the right time and beat your rivals in Gear Race 3D! Start shifting right now to become the Gear Race 3D world champion!
FEATURES
◉ Speed up your car faster than other racers to win.
◉ Upgrade your car speed and gearbox level to beat better racers each level.
◉ Shift the gearbox right time otherwise your car engine will be overheated and explode! Upgrade your engine cooler to prevent explosion.
◉ Challenge boss opponents every 5 levels. Remember, you will get their keys if you win!
◉ Join live tournaments and win exclusive cars & earn money.
◉ Pass the finish line as fast as possible so you can earn extra amount of money.
HIGHLIGHTS
◉ Tap-only one finger shifting control.
◉ Easy yet challenging car race 3d gameplay.
◉ Attractive Graphics & Addictive car race 3d gameplay
◉ No wifi connection required. You can start shifting offline anywhere anytime.
◉ No unnecessary sounds and other weird visual car race 3d effects
PICK YOUR DREAM CAR
Upgrade your car to speed up faster and gear up at the right time! Progress more to stock up your garage with most popular cars.
BECOME A STREET LEGEND
Start your racing games journey with over 200 levels to play! Become a legend racer and rule the streets !
BOOST YOUR SPEED WITH TURBO ENGINE
Use nitro to boost your speed if you are having trouble to beat your opponent! You can also use nitro & turbo in the beginning of the race in order to take early advantage against the other racers.
Gear Race 3D , published by Rollic Games , is exclusive for manual gearbox fans and for those who describe themselves as a pro gear shifter & racer in car racing games ! Challenge all pro car racing opponents around the world, join tournaments with fancy cars.
Rollic , as a publisher of biggest titles worldwide, offers unique gameplay with Gear Race 3D. If you are tired with other boring racing games & car games , try Gear Race ! Start racing now!

PC'de Gear Race 3D nasıl indirilir
1. MEmu yükleyicisini indirin ve kurulumu tamamlayın

2. MEmu'yu başlatın ve ana sayfada Google Play'i açın

3. Google Play'de Gear Race 3D arayın

4. Gear Race 3D indirin ve yükleyin

5. Kurulum tamamlandığında başlamak için simgeye tıklayın

6. PC'de MEmu ile Gear Race 3D oyunun keyfini çıkarın
Neden Gear Race 3D için MEmu kullanın
MEmu App Player, en iyi ücretsiz Android emülatörüdür ve 50 milyon insan zaten mükemmel Android oyun deneyimini yaşamaktadır. MEmu sanallaştırma teknolojisi, binlerce grafik oyunu hatta grafikte en yoğun olanları bile sorunsuz bir şekilde bilgisayarınızda oynamanızı sağlar.
Daha büyük ekranla daha iyi grafiklere sahip; Pil veya mobil veri sınırlaması olmaksızın uzun süre.

Keymapping klavye ve fare veya gamepad'in hassas kontrolü için destek verir.

Multi-Instance yöneticisi ile tek bir bilgisayarda aynı anda birden fazla oyun hesabı veya görev gerçekleşilebilir.
Oynamaya hazır mısınız?