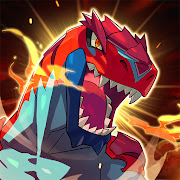 Legendino: Dinosaur Battle
PC'de Legendino: Dinosaur Battle özellikleri
With all your passion for playing Legendino: Dinosaur Battle, you hands are not supposed to be limited on a tiny screen of your phone. Play like a pro and get full control of your game with keyboard and mouse. MEmu offers you all the things that you are expecting. Download and play Legendino: Dinosaur Battle on PC. Play as long as you want, no more limitations of battery, mobile data and disturbing calls. The brand new MEmu 8 is the best choice of playing Legendino: Dinosaur Battle on PC. Prepared with our expertise, the exquisite preset keymapping system makes Legendino: Dinosaur Battle a real PC game. MEmu multi-instance manager makes playing 2 or more accounts on the same device possible. And the most important, our exclusive emulation engine can release full potential of your PC, make everything smooth.
Legendino: Dinosaur Battle PC'in ekran görüntüleri ve Video
Legendino: Dinosaur Battle'i MEmu Android Emülatör ile PC'ye indirin. Büyük ekranda oynamanın keyfini çıkarın. Welcome to the Lost World, a world inhabited by mysterious Dinos!
Oyun bilgisi
Welcome to the Lost World, a world inhabited by mysterious Dinos!
Become a great adventurer and explore the unknown world of Dinos!
3 vs 3 power battle with awesome Dinos, "Legendino"!
[Global PVP Dino Battle!]
- Command 3 Dinos to lead the battle
- Use the basic skills (attack, defense) and unique skills that appear randomly at the right time.
- Defeat all three of your opponent's dinos to win the battle!
■ Oh! A Dino is about to be born from an egg!
Let's raise 162 kinds of legendary Dinos including Stegosaurus and Tyrannosaurus!
• Eat 'dinosaur feed' and level up quickly!
• More and more powerful with 3 stages of evolution!
• Random unique skill activated! Combine 27 different skills.
• Skill & ability upgrade through research
■ Global battles to enjoy with your friends!
• Friendly Match: Add your friend's ID right now and play one-on-one with your friend!
• Guild: Create a guild with your friends and share information and items!
• Arena: Battle with users around the world! Time to show off your mighty dino!
■ Shh, a strategy for winning battles that only you may know!
• Attack and Defense? Predict the opponent's behavior and choose one of 'Soul Charge', 'Attack', 'Defense', and 'Unique Skill'!
• Aggressive? defensive? Among the 6 basic skills, you can set the number of attacks/defenses differently!
• Combine skills to activate more powerful skills such as 'Strong Attack', 'Evade', and 'Counter'.
• Fast and deadly attack, super powerful special Dino Field skill!
"Dino Battle, Real-time Strategy Turn-Based PVP! Log into Legendino NOW!!"

PC'de Legendino: Dinosaur Battle nasıl indirilir
1. MEmu yükleyicisini indirin ve kurulumu tamamlayın

2. MEmu'yu başlatın ve ana sayfada Google Play'i açın

3. Google Play'de Legendino: Dinosaur Battle arayın

4. Legendino: Dinosaur Battle indirin ve yükleyin

5. Kurulum tamamlandığında başlamak için simgeye tıklayın

6. PC'de MEmu ile Legendino: Dinosaur Battle oyunun keyfini çıkarın
Neden Legendino: Dinosaur Battle için MEmu kullanın
MEmu App Player, en iyi ücretsiz Android emülatörüdür ve 50 milyon insan zaten mükemmel Android oyun deneyimini yaşamaktadır. MEmu sanallaştırma teknolojisi, binlerce grafik oyunu hatta grafikte en yoğun olanları bile sorunsuz bir şekilde bilgisayarınızda oynamanızı sağlar.
Daha büyük ekranla daha iyi grafiklere sahip; Pil veya mobil veri sınırlaması olmaksızın uzun süre.

Keymapping klavye ve fare veya gamepad'in hassas kontrolü için destek verir.

Multi-Instance yöneticisi ile tek bir bilgisayarda aynı anda birden fazla oyun hesabı veya görev gerçekleşilebilir.
Oynamaya hazır mısınız?