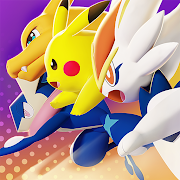 Features of Pokémon UNITE on PC
Перестаньте турбуватися про надмірні витрати, використовуючи ххх на своєму мобільному телефоні, звільніться від крихітного екрану і насолоджуйтеся використанням програми на набагато більшому дисплеї. Відтепер отримуйте повний екран свого додатка за допомогою клавіатури та миші. MEmu пропонує вам усі дивовижні функції, які ви очікували: швидка установка та просте налаштування, інтуїтивно зрозумілі елементи керування, більше обмежень від акумулятора, мобільних даних та тривожних дзвінків. Новий MEmu 7 - найкращий вибір використання Pokémon UNITE на вашому комп'ютері. За допомогою нашого поглинання менеджер із кількома примірниками одночасно дозволяє відкрити 2 або більше рахунків. І найголовніше, наш ексклюзивний емуляційний двигун може вивільнити весь потенціал вашого ПК, зробити все гладким і приємним.
Screenshots & Video of Pokémon UNITE PC
Насолоджуйтесь чудовим досвідом гри на ПК за допомогою програми MEMU App Player. Це потужний безкоштовний емулятор Android, який дозволяє вам грати в тисячі ігор Android. Headline:.
Game Info
Headline:
Pokémon UNITE:
Team up and take down the opposition in Pokémon's first 5-on-5 strategic team battle game!
Join Trainers from around the world as they head for Aeos Island to compete in Unite Battles! In Unite Battles, Trainers face off in 5-on-5 team battles to see who can score the most points within the allotted time. Teamwork is key as you and your teammates defeat wild Pokémon, level up, evolve your own Pokémon, and work to prevent the opposing team from scoring points. Put your teamwork to the test, and take home the win!
Key Features:
• BATTLE IN STYLE: Take to the field while looking your best in Holowear! Thanks to a special technology developed using Aeos energy, Trainers can deck out their Pokémon in a variety of holographic outfits—with new styles arriving regularly!

• UNITE MOVES: Unleash the true power of your Pokémon with Unite Moves! Leverage these all-new Pokémon moves, which are only possible while in Unite Battles, and turn the tide of even the direst situations.

• RANK UP: Looking to prove how skilled you are? Participate in ranked matches, and earn points as you climb up the global leaderboard!

• COMMUNICATION IS KEY: Even the most skilled Trainers recognize how important communication is to their team's success. Leverage signals, quick-chat messages, and—for the first time in a Pokémon title—voice chat to communicate and stay in sync with your team.

• CROSS-PLATFORM PLAY: Challenge Trainers from around the world to Unite Battles on the Nintendo SwitchTM system or on a compatible mobile device thanks to cross-platform support. Trainers may use their Pokémon Trainer Club account or Nintendo Account on both Nintendo Switch and mobile to easily keep their progress synced between devices.
Check out the official website for more information, and follow Pokémon UNITE on Twitter for all the latest news.
------------------------------------------------------------
Official Website: http://PokemonUNITE.com/
Official Twitter: https://twitter.com/PokemonUNITE/
Legal:
• This is a free-to-start game; optional in-game purchases available. Data charges may apply.
• An internet connection is required to play the game.

How to Download Pokémon UNITE on PC
1. Download MEmu installer and finish the setup

2. Start MEmu then open Google Play on the desktop

3. Search Pokémon UNITE in Google Play

4. Download and Install Pokémon UNITE

5. On install completion click the icon to start

6. Enjoy playing Pokémon UNITE on PC with MEmu
Why Use MEmu for Pokémon UNITE
MEmu App Player є кращим безкоштовним емулятором Android, і 50 мільйонів людей вже користуються його чудовим ігровим досвідом Android. Технологія віртуалізації MEmu дає вам змогу відтворювати тисячі ігор Android на вашому комп'ютері, навіть найбільш насичених графікою.
Bigger screen with better graphics; Long duration, without limitation of battery or mobile data.

Full Keymapping support for precise control of keyboard and mouse or gamepad.

Multiple game accounts or tasks on single PC at one time with Multi-Instance manager.
Ready to Play?