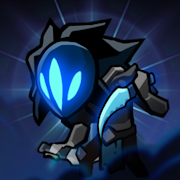 Knights of Shadow : Idle RPG
Features of Knights of Shadow : Idle RPG on PC
With all your passion for playing Knights of Shadow : Idle RPG, you hands are not supposed to be limited on a tiny screen of your phone. Play like a pro and get full control of your game with keyboard and mouse. MEmu offers you all the things that you are expecting. Download and play Knights of Shadow : Idle RPG on PC. Play as long as you want, no more limitations of battery, mobile data and disturbing calls. The brand new MEmu 8 is the best choice of playing Knights of Shadow : Idle RPG on PC. Prepared with our expertise, the exquisite preset keymapping system makes Knights of Shadow : Idle RPG a real PC game. MEmu multi-instance manager makes playing 2 or more accounts on the same device possible. And the most important, our exclusive emulation engine can release full potential of your PC, make everything smooth.
Screenshots & Video of Knights of Shadow : Idle RPG PC
Απολαύστε την υπέροχη εμπειρία αναπαραγωγής του Knights of Shadow : Idle RPG σε υπολογιστή με το MEMU App Player. Πρόκειται για έναν ισχυρό δωρεάν εξομοιωτή Android που σας επιτρέπει να παίζετε χιλιάδες παιχνίδια Android. ◈ Game Introduction.
Game Info
◈ Game Introduction
Enjoy a large-scale corps battle led by the shadow lord in an idle RPG game!
No matter how strong the enemy, resurrect it as your own shadow soldier and become infinitely stronger!
◈ If you kill yesterday's enemy with today's ally, you can make your own shadow soldier! Defeat the enemy with dozens of shadow corps!
◈ Idle game dominated by one finger A must-have game for busy and busy modern people! Idle type system that gets stronger by itself!
You can become the best protagonist in fantasy easier and faster than others.
◈ Various contents If you acquire a shadow soldier, you can enter all dungeons together indefinitely!
Subdue the evil dragon dungeon and go on an adventure to the tower of endless trials!
◈ The best bout of my life with a combination of individuality, collect numerous shadow soldiers and artifacts, and deploy your corps with your own strategy! Dozens of strategic plays are possible depending on the faction and skill combination!
App Permissions
[Optional Permissions]
- READ_EXTERNAL_STORAGE
- WRITE_EXTERNAL_STORAGE
: required storage access permission to save game data
[How to revoke access] ▸ Android 6.0 or higher: Settings > Applications > Permissions > Permissions list > Revocation settings ▸ Under Android 6.0: Upgrade the operating system to revoke access or delete the application ※ If you are using an Android version less than 6.0 Since you cannot individually set optional access rights, it is recommended to update to version 6.0 or later.

How to Download Knights of Shadow : Idle RPG on PC
1. Download MEmu installer and finish the setup

2. Start MEmu then open Google Play on the desktop

3. Search Knights of Shadow : Idle RPG in Google Play

4. Download and Install Knights of Shadow : Idle RPG

5. On install completion click the icon to start

6. Enjoy playing Knights of Shadow : Idle RPG on PC with MEmu
Why Use MEmu for Knights of Shadow : Idle RPG
Το MEmu App Player, αποτελεί την ιδανικότερη δωρεάν λύση για την εξομοίωση του λειτουργικού Android, και χρησιμοποιείται ήδη από περισσότερους από 50 εκατομμύρια χρήστες, ο οποίοι απολαμβάνουν, την καταπληκτική εμπειρία παιχνιδιού που προσφέρεται μέσω της εφαρμογής. Με τη χρήση του MEmu Virtualization, είναι δυνατή η αναπαραγωγή παιχνιδιών Android στον υπολογιστή, ακόμη και εκείνων που απαιτούν μεγάλη επεξεργαστική ισχύ γραφικών, δίχως συμβιβασμούς στην ποιότητα και στην εμπειρία χρήσης, ακριβώς όπως ένα τελευταίας γενιάς κινητό τηλέφωνο.
Bigger screen with better graphics; Long duration, without limitation of battery or mobile data.

Full Keymapping support for precise control of keyboard and mouse or gamepad.

Multiple game accounts or tasks on single PC at one time with Multi-Instance manager.
Ready to Play?