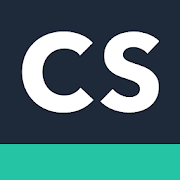 CamScanner - Scanner to scan PDF
Features of CamScanner - Scanner to scan PDF on PC
Σταματήστε να ανησυχείτε για υπερβολικές χρεώσεις όταν χρησιμοποιείτε το CamScanner - Scanner to scan PDF στο κινητό σας, απελευθερώστε τον εαυτό σας από τη μικροσκοπική οθόνη και απολαύστε τη χρήση της εφαρμογής σε μια πολύ μεγαλύτερη οθόνη. Από τώρα και στο εξής, αποκτήστε εμπειρία πλήρους οθόνης της εφαρμογής σας με πληκτρολόγιο και ποντίκι. Το MEmu σας προσφέρει όλες τις εκπληκτικές δυνατότητες που περιμένατε: γρήγορη εγκατάσταση και εύκολη εγκατάσταση, διαισθητικά χειριστήρια, όχι περισσότερους περιορισμούς μπαταρίας, δεδομένα κινητής τηλεφωνίας και ενοχλητικές κλήσεις. Το ολοκαίνουργιο MEmu 7 είναι η καλύτερη επιλογή για χρήση του CamScanner - Scanner to scan PDF στον υπολογιστή σας. Κωδικοποιημένο με την απορρόφηση μας, ο διαχειριστής πολλαπλών παρουσιών καθιστά δυνατό το άνοιγμα 2 ή περισσότερων λογαριασμών ταυτόχρονα. Και το πιο σημαντικό, ο αποκλειστικός κινητήρας εξομοίωσης μπορεί να απελευθερώσει όλες τις δυνατότητες του υπολογιστή σας, να κάνει τα πάντα ομαλά και ευχάριστα.
Screenshots & Video of CamScanner - Scanner to scan PDF PC
Απολαύστε την υπέροχη εμπειρία αναπαραγωγής του CamScanner - Scanner to scan PDF σε υπολογιστή με το MEMU App Player. Πρόκειται για έναν ισχυρό δωρεάν εξομοιωτή Android που σας επιτρέπει να παίζετε χιλιάδες παιχνίδια Android. CamScanner is the best scanner app that will turn your phone into a PDF scanner.
Game Info
CamScanner is the best scanner app that will turn your phone into a PDF scanner. Convert images to pdf in a simple tap. Download it for FREE!
* Installed on over 500 million devices in over 200 countries around the world
* Over 500,000 new registrations per day
CamScanner helps you scan, store, sync and collaborate on various contents across smartphones, iPads, tablets and computers.
Features:
*Quickly Digitize Document
Just use your phone camera to scan and digitize all kinds of paper documents: receipts, notes, invoices, whiteboard discussions, business cards, certificates, etc.
*Optimize Scan Quality
Smart cropping and auto enhancing ensures the texts and graphics in scanned documents are clear and sharp with premium colors and resolutions.
*Extract Texts from Image
OCR (optical character recognition) feature recognizes texts in document images and extract them from images for later searching, editing or sharing. (Premium only)
*Share PDF/JPEG Files
Easily share documents in PDF or JPEG format with friends via various ways: post on social media, send attachment or document download link through email.
*AirPrint & Fax Documents
Instantly print out any documents in CamScanner with nearby printer via AirPrint; directly select document and fax to over 30 countries from the app.
*Advanced Document Editing
Make annotations on documents with a full set of editing tools. Also adding customized watermarks are made available to mark your own documents.
*Quick Search
When you have plenty of documents, you can use Tags to categorize and easily find them. In addition, OCR for Search helps you find texts inside image and notes. Just enter one keyword, you can quickly find the document you want. (Registrants only)
*Secure Important Documents
If you want to protect confidential contents, you can set passcode for viewing important documents; also, while sending document download link, you can set password to protect others from seeing it.
*Sync across Platforms
Sign up to sync documents on the go. Just sign in to any smartphone, tablet or computer (visit www.camscanner.com ) and you can view, edit and share any document. (Registrants only)
Premium Subscription Service:
1. OCR (Convert Image to TXT, Image to WORD & Image to EXCEL)
2. Batch download PDF files in web app
3. Share secured document downlink with others
4. Add extra 40 to the maximum number of collaborators
5. Add 10G cloud space
6. ID Mode Scan
7. Remove ads or watermarks
8. Collage of two separate documents
9. E-signature
10. Book Mode Scan
Payment models for Premium subscription:
-$ 4.99/month
-$ 49.99/year
Please note the subscription is automatically renewed at the end of the period unless you choose to cancel the subscription.
CamScanner users scan and manage
* Bill, Invoice, Contract, Tax Roll, Business Card…
* Whiteboard, Memo, Script, Letter…
* Blackboard, Note, PPT, Book, Article…
* Credential, Certificate, Identity Documents…
3rd Party Cloud Storage Services Supported:
-Box.com, Google Drive, Evernote, Dropbox,
The free version is an ad-supported version and scanned documents are generated are with watermark, plus a limit of 30 pages of adding annotations; Uploading to Evernote/OneDrive is only available for 7 days; Invite 10 collaborators per document at most.
Permission Overview:
1. Storage: CamScanner needs permission to store docs in your phone.
2. Camera: CamScanner needs permission to use camera to scan docs.
3. Phone: In order to bind Premium membership to your device or to ensure normal use without login, CamScanner needs to get your device ID.
We'd love to hear your feedback: asupport@intsig.com
Follow us on Twitter: @CamScanner
Like us on Facebook: CamScanner
Follow us on Google+: CamScanner

How to Download CamScanner - Scanner to scan PDF on PC
1. Download MEmu installer and finish the setup

2. Start MEmu then open Google Play on the desktop

3. Search CamScanner - Scanner to scan PDF in Google Play

4. Download and Install CamScanner - Scanner to scan PDF

5. On install completion click the icon to start

6. Enjoy playing CamScanner - Scanner to scan PDF on PC with MEmu
Why Use MEmu for CamScanner - Scanner to scan PDF
Το MEmu App Player, αποτελεί την ιδανικότερη δωρεάν λύση για την εξομοίωση του λειτουργικού Android, και χρησιμοποιείται ήδη από περισσότερους από 50 εκατομμύρια χρήστες, ο οποίοι απολαμβάνουν, την καταπληκτική εμπειρία παιχνιδιού που προσφέρεται μέσω της εφαρμογής. Με τη χρήση του MEmu Virtualization, είναι δυνατή η αναπαραγωγή παιχνιδιών Android στον υπολογιστή, ακόμη και εκείνων που απαιτούν μεγάλη επεξεργαστική ισχύ γραφικών, δίχως συμβιβασμούς στην ποιότητα και στην εμπειρία χρήσης, ακριβώς όπως ένα τελευταίας γενιάς κινητό τηλέφωνο.
Bigger screen with better graphics; Long duration, without limitation of battery or mobile data.

Full Keymapping support for precise control of keyboard and mouse or gamepad.

Multiple game accounts or tasks on single PC at one time with Multi-Instance manager.
Ready to Play?