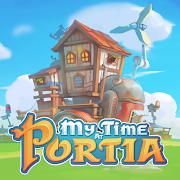 Fitur My Time at Portia di PC
Dengan seluruh passion-mu untuk bermain My Time at Portia, tidak seharusnya tanganmu terbatasi oleh layar kecil ponselmu. Bermainlah seperti profesional dan dapatkan kontrol penuh gim kesukaanmu dengan keyboard dan mouse. MEmu menawarkan semua hal yang kamu harapkan. Unduh dan mainkan My Time at Portia di PC. Mainkan selama apapun yang kamu inginkan, tidak akan ada lagi batasan baterai, data seluler, dan panggilan yang mengganggu. MEmu 7 yang baru adalah pilihan terbaik untuk memainkan My Time at Portia di PC. Telah dipersiapkan dengan keahlian yang kami miliki, sistem keymapping mandiri nan indah, menciptakan gim My Time at Portia PC yang nyata. Disandi dengan penyerapan kami, membuat multi-instance manager bisa membuatmu memainkan dua atau lebih akun pada perangkat yang sama. Dan yang paling penting, mesin emulasi eksklusif kami dapat melepaskan seluruh potensi PC Anda, sehingga membuat semua berjalan lancar. Kami tidak hanya peduli bagaimana kamu bermain, tetapi juga seluruh proses menikmati kebahagiaan dalam bermain gim.
Tangkapan layar & Vidio My Time at Portia PC
Unduh My Time at Portia di PC dengan Emulator Android MEmu. Nikmati permainan pada layar yang besar. New updates:.
Info gim
New updates:
1. 28 sets of new outfits for characters and NPCs available in store!
2. Resolved issues related to some devices freezing at loading
3. Resolved the non-refresh issue related to certain resource upgrade locations
4. Text optimizations
5. Fixed the issue with male character displayed as female characters
6. Added touch feedback for the mail/post interface
————————————————
【Recommended Specs:】
RAM>3GB,System>Android 9.0
【Controller not supported yet】
————————————————
Welcome to feedback and bug report in our Discord.
【https://discord.gg/2tzdsn9Z9u】
Discover your inner builder in the open world of Portia!
A top hit 3D simulation RPG on PC has now arrived on mobile! Inherit your Pa's workshop, craft and build your way to compete for top builder in town! As you explore and discover hidden relics, restore the glory of human civilization on this post-apocalyptic land. As you grow into a seasoned builder, bond with NPCs and townsfolk to build a circle of friends and romance!
【The Civilization of Portia Includes:】
- A fully operable 3D workshop
Enjoy the fun of building and growing your workshop in this 3D open-world by gathering resources and assembling them into meaningful pieces. Automate your workshop and expand your farm and homeland, and take on more skills and techniques that will benefit the town. Don't forget that you also get to develop animal husbandry, riding a horse or even alpaca is a dream not far away!
- Socialize and build a family
More than 50 interactable NPCs live in Portia. As soon as you land, you'll meet a few of them and as you progress, you can develop further friendships or even romantic relationships with them. There are quite a lot of activities available for socializing, including taking a hot air balloon ride! When everything falls into place, you can tie the knot, have children and experience the joys of parenthood.
- Engage in challenging battles and adventures in old civilization
Hone your fighting skills to defeat monsters in post-apocalyptic ruins as you unearth the truth of the former civilization buried beneath.
- 100% Original PC gameplay and experience
Whether you're a new explorer or a fellow Portian already, you can now bring the entirety of Portia with you on-the-go! Your phone is now your mobile workshop!
【Join Our Community:】
★Facebook: https://www.facebook.com/MyTimeatPortiaMobile/
★Discord: https://discord.gg/2tzdsn9Z9u
——————————————
【Dear builders! Note that data/saves will be deleted from you phone once the game is uninstalled. Please upload the saves to the cloud before you reset you phone/system or change another device. Thank you!】

Unduh My Time at Portia di PC
1. Unduh dan instal MEmu APP

2. Menjalankan MEmu lalu buka Google Play di halaman

3. Cari My Time at Portia di Google Play

4. Unduh dan instal My Time at Portia

5. Setelah insatl APP selesai,klik ikon untuk mulai

6. Nikmati bermain My Time at Portia di PC dengan MEmu
Kenapa Memakai MEmu untuk My Time at Portia
MEmu App Player adalah emulator Android gratis terbaik dan 50 Juta orang sudah menikmati pengalaman luar biasa dalam bermain gim Android. Teknologi virtualisasi MEmu memberi kekuasaan untuk memainkan ribuan gim Android dengan lancar di PC anda, bahkan gim dengan grafis yang paling tinggi.
Layar lebih besar dengan grafis yang lebih baik; durasi panjang, tanpa batasan baterai atau data seluler.

Didukung penuh oleh Pemetaan tombol yang lengkap untuk keakuratan kontrol keyboard dan mouse maupun gamepad.

Membuka beberapa akun game atau tugas di waktu yang sama hanya pada satu PC, dengan Multi-Instance manager.
Siap bermain?