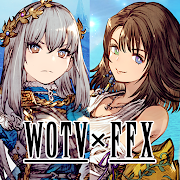 SQUARE ENIX Co.,Ltd.
Fitur WAR OF THE VISIONS FFBE di PC
Dengan seluruh passion-mu untuk bermain WAR OF THE VISIONS FFBE, tidak seharusnya tanganmu terbatasi oleh layar kecil ponselmu. Bermainlah seperti profesional dan dapatkan kontrol penuh gim kesukaanmu dengan keyboard dan mouse. MEmu menawarkan semua hal yang kamu harapkan. Unduh dan mainkan WAR OF THE VISIONS FFBE di PC. Mainkan selama apapun yang kamu inginkan, tidak akan ada lagi batasan baterai, data seluler, dan panggilan yang mengganggu. MEmu 7 yang baru adalah pilihan terbaik untuk memainkan WAR OF THE VISIONS FFBE di PC. Telah dipersiapkan dengan keahlian yang kami miliki, sistem keymapping mandiri nan indah, menciptakan gim WAR OF THE VISIONS FFBE PC yang nyata. Disandi dengan penyerapan kami, membuat multi-instance manager bisa membuatmu memainkan dua atau lebih akun pada perangkat yang sama. Dan yang paling penting, mesin emulasi eksklusif kami dapat melepaskan seluruh potensi PC Anda, sehingga membuat semua berjalan lancar. Kami tidak hanya peduli bagaimana kamu bermain, tetapi juga seluruh proses menikmati kebahagiaan dalam bermain gim.
Tangkapan layar & Vidio WAR OF THE VISIONS FFBE PC
Unduh WAR OF THE VISIONS FFBE di PC dengan Emulator Android MEmu. Nikmati permainan pada layar yang besar. In the latest work of the FINAL FANTASY BRAVE EXVIUS series, experience a battle that has remained unknown in the world of FFBE.
Info gim
In the latest work of the FINAL FANTASY BRAVE EXVIUS series, experience a battle that has remained unknown in the world of FFBE...until now.
Characters from past FINAL FANTASY titles will be included!
Twin princes and the beautiful steel maiden—
The War of the Visions begins!
• ---------------------------------------- •
             Gameplay
• ---------------------------------------- •
Experience the stories of each kingdom and its warriors on the continent of Ardra by exploring Story Quests, World Quests, Event Quests, and more.
Cooperate with other players to progress in Multiplayer Quests, or compete online via Duel.
<Battle System>
The pinnacle of tactical battles, presented in 3D terrains with various elevations. Aim for victory by employing unique strategies for each battle.
Auto-battle and increased speed settings are also available, allowing beginners to play with ease.
Similar to previous FINAL FANTASY titles, characters can make a difference between victory and defeat with special moves called Limit Bursts that feature impressive displays and powerful attacks!
Familiar Espers of the FINAL FANTASY series will appear in CG animations, supporting players with their incredible power.
<Job System & Elements>
Acquire new jobs by raising units with the Job System. In addition, each unit has an Element that can be utilized against enemies to deal increased damage. Make good use of the Job System and Elements to gain the advantage in battle.
<Quests>
In addition to Story Quests where you can enjoy the main tale of War of the Visions, you can enjoy more than 200 unique quests within World Quests and Event Quests, where various materials can be acquired.
<Voice Acting>
Story Quests are fully voiced in Japanese and English. Choose your preferred language and enjoy the tale of War of the Visions.
<Music>
Familiar to the FFBE series, the BGM of War of the Visions is composed by Elements Garden (Noriyasu Agematsu).
The world of War of the Visions is adorned with stately timbre performed by a full orchestra.
• ---------------------------------------- •
                  Story
• ---------------------------------------- •
Leonis, a small kingdom surrounded by powerful nations, has remained unconquered with the help of a curious ring bestowed upon it king by the "Winged One."
With visions—the hopes and dreams of
legendary warriors given life—on their side,
Leonis could hold its own against the might of other kingdoms.
But as the ever-repeating cruelty of fate would have it,
even the bonds of love and friendship cannot remain unscathed.
The twin princes of Leonis,
Mont and Sterne, are no exception.
Their feud signals the beginning of the end of the longstanding War of the Visions.
In this war-torn land of rivaling nations,
who will be left smiling
in the dazzling light of the Crystal?
<Familiar FINAL FANTASY series Espers such as Ifrit and Ramuh appear!>
<In addition to Ayaka and Aileen from FFBE, Global-original characters will also participate in WAR OF THE VISIONS FINAL FANTASY BRAVE EXVIUS!>
And so begins the tale of the War of the Visions.
© 2019, 2020 SQUARE ENIX CO., LTD. All Rights Reserved. Co-Developed by gumi Inc.
LOGO ILLUSTRATION: © 2018 YOSHITAKA AMANO
IMAGE ILLUSTRATION: ISAMU KAMIKOKURYO

Unduh WAR OF THE VISIONS FFBE di PC
1. Unduh dan instal MEmu APP

2. Menjalankan MEmu lalu buka Google Play di halaman

3. Cari WAR OF THE VISIONS FFBE di Google Play

4. Unduh dan instal WAR OF THE VISIONS FFBE

5. Setelah insatl APP selesai,klik ikon untuk mulai

6. Nikmati bermain WAR OF THE VISIONS FFBE di PC dengan MEmu
Kenapa Memakai MEmu untuk WAR OF THE VISIONS FFBE
MEmu App Player adalah emulator Android gratis terbaik dan 50 Juta orang sudah menikmati pengalaman luar biasa dalam bermain gim Android. Teknologi virtualisasi MEmu memberi kekuasaan untuk memainkan ribuan gim Android dengan lancar di PC anda, bahkan gim dengan grafis yang paling tinggi.
Layar lebih besar dengan grafis yang lebih baik; durasi panjang, tanpa batasan baterai atau data seluler.

Didukung penuh oleh Pemetaan tombol yang lengkap untuk keakuratan kontrol keyboard dan mouse maupun gamepad.

Membuka beberapa akun game atau tugas di waktu yang sama hanya pada satu PC, dengan Multi-Instance manager.
Siap bermain?