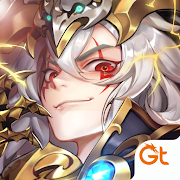 Fitur Dynasty Scrolls di PC
Dengan seluruh passion-mu untuk bermain Dynasty Scrolls, tidak seharusnya tanganmu terbatasi oleh layar kecil ponselmu. Bermainlah seperti profesional dan dapatkan kontrol penuh gim kesukaanmu dengan keyboard dan mouse. MEmu menawarkan semua hal yang kamu harapkan. Unduh dan mainkan Dynasty Scrolls di PC. Mainkan selama apapun yang kamu inginkan, tidak akan ada lagi batasan baterai, data seluler, dan panggilan yang mengganggu. MEmu 8 yang baru adalah pilihan terbaik untuk memainkan Dynasty Scrolls di PC. Telah dipersiapkan dengan keahlian yang kami miliki, sistem keymapping mandiri nan indah, menciptakan gim Dynasty Scrolls PC yang nyata. Disandi dengan penyerapan kami, membuat multi-instance manager bisa membuatmu memainkan dua atau lebih akun pada perangkat yang sama. Dan yang paling penting, mesin emulasi eksklusif kami dapat melepaskan seluruh potensi PC Anda, sehingga membuat semua berjalan lancar. Kami tidak hanya peduli bagaimana kamu bermain, tetapi juga seluruh proses menikmati kebahagiaan dalam bermain gim.
Tangkapan layar & Vidio Dynasty Scrolls PC
Unduh Dynasty Scrolls di PC dengan Emulator Android MEmu. Nikmati permainan pada layar yang besar. Break history and wreck the meta!
Info gim
Break history and wreck the meta! Asia's beloved RPG released in English with a new tutorial & jacked up rewards to gently guide you into the ultra-violent wastelands!
【Free stuff! Great values! 】
Enjoy tons of rewards every day! Get 20 lucky draws for free upon login to the game. Get the famous legend Zhao Yun for free after logging in for seven days. Get up to 30,000 Gold, an exclusive skin for free within the first week! A lot of bonuses will help you grow fast!
【Top-class character paintings, reshaping Chinese legends】
We created a wonderful game world with a combination of fantasy and real history! Hundreds of top-class painters work hard to create a brand new design of the epic heroes with the combination of classics and modern tastes. We use fantasy paintings to reshape the famous stories.
【Strategic Combos! Choose your own ultimate skills!】
An advanced combo system gives you the freedom to craft your own strategy. Dozens of combos and synergies are at your disposal! A variety of training paths await. Fight with your wisdom and courage! Smooth cinematic battles give you ultimate visual experience!
【Evolve historical scenarios or experience the tactical RPG campaign mode】
The game has a unique Historical mode which combines the fun of a top-down RPG game with an advanced tactical battle system. Meanwhile, you may become legendary heroes like Zhao Yun and Lu Bu to re-experience the epic historical battles and create your own stories. There is always something to do no matter what level you are!
【Gathering together to fight for your Legion】
Once we become brothers and sisters, we will fight until the end of the world! Grow your legend with your friends. Fight against the most dangerous enemies and explore the mysterious Instances. Keep developing and growing to conquer the world.
Find more about the game news and bonus: https://www.facebook.com/dynastyscrolls/

Unduh Dynasty Scrolls di PC
1. Unduh dan instal MEmu APP

2. Menjalankan MEmu lalu buka Google Play di halaman

3. Cari Dynasty Scrolls di Google Play

4. Unduh dan instal Dynasty Scrolls

5. Setelah insatl APP selesai,klik ikon untuk mulai

6. Nikmati bermain Dynasty Scrolls di PC dengan MEmu
Kenapa Memakai MEmu untuk Dynasty Scrolls
MEmu App Player adalah emulator Android gratis terbaik dan 50 Juta orang sudah menikmati pengalaman luar biasa dalam bermain gim Android. Teknologi virtualisasi MEmu memberi kekuasaan untuk memainkan ribuan gim Android dengan lancar di PC anda, bahkan gim dengan grafis yang paling tinggi.
Layar lebih besar dengan grafis yang lebih baik; durasi panjang, tanpa batasan baterai atau data seluler.

Didukung penuh oleh Pemetaan tombol yang lengkap untuk keakuratan kontrol keyboard dan mouse maupun gamepad.

Membuka beberapa akun game atau tugas di waktu yang sama hanya pada satu PC, dengan Multi-Instance manager.
Siap bermain?