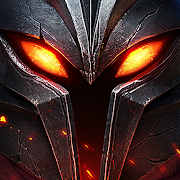 Features of Rage of Destiny on PC
Перестаньте турбуватися про надмірні витрати, використовуючи ххх на своєму мобільному телефоні, звільніться від крихітного екрану і насолоджуйтеся використанням програми на набагато більшому дисплеї. Відтепер отримуйте повний екран свого додатка за допомогою клавіатури та миші. MEmu пропонує вам усі дивовижні функції, які ви очікували: швидка установка та просте налаштування, інтуїтивно зрозумілі елементи керування, більше обмежень від акумулятора, мобільних даних та тривожних дзвінків. Новий MEmu 7 - найкращий вибір використання Rage of Destiny на вашому комп'ютері. За допомогою нашого поглинання менеджер із кількома примірниками одночасно дозволяє відкрити 2 або більше рахунків. І найголовніше, наш ексклюзивний емуляційний двигун може вивільнити весь потенціал вашого ПК, зробити все гладким і приємним.
Screenshots & Video of Rage of Destiny PC
Насолоджуйтесь чудовим досвідом гри на ПК за допомогою програми MEMU App Player. Це потужний безкоштовний емулятор Android, який дозволяє вам грати в тисячі ігор Android. The stars vanished, and the world was shrouded by darkness.
Game Info
The stars vanished, and the world was shrouded by darkness.
The line between life and death blurred as millions plunged into an abyss of misery.
There was no law.
There was no order.
And the mortals' cries for salvation went unanswered.
Where were the gods?
The Father of the Gods tried to summon his children, but no one responded. All that was heard was a single prophecy.
Every 10,000 years, the world will fall into disorder. Heaven and earth will flip, and the stars will vanish. All will perish and turn into dust. Everything comes full circle, and the old gods shall fall.

It wasn't the gods giving up on humanity. It was the world giving up on the gods.
It was a destined calamity... The crisis of the gods.

[Game Features]
- Fantasy world with stunning visuals and audio
Heroes with distinct personalities, spectacular maps and graphics, and immersive battles! A gorgeous sword and sorcery RPG ideal for fans of Ace Defender, Raid Shadow Legends, and Summoners War. Experience this unique tower defense game in superior HD on mobile!

- Idle and Relaxing
Busy with work and life? Earn EXP and rewards by being AFK! Perfect for fans of idle games, such as AFK Arena, Hero Wars, Idle Heroes, and Magnum Quest!

- Tap and Battle
Change your formation and switch your positions to turn the tide in battles!

- Diverse Heroes
Collect unique Heroes and explore various skills and strategies! Team up Heroes as you like to form your favorite squad!

- Random Surprises
Random buildings, items, and events. Sandbox gameplay with random elements brings you a different gaming experience every time!
Facebook: https://www.facebook.com/RageofDestiny/

How to Download Rage of Destiny on PC
1. Download MEmu installer and finish the setup

2. Start MEmu then open Google Play on the desktop

3. Search Rage of Destiny in Google Play

4. Download and Install Rage of Destiny

5. On install completion click the icon to start

6. Enjoy playing Rage of Destiny on PC with MEmu
Why Use MEmu for Rage of Destiny
MEmu App Player є кращим безкоштовним емулятором Android, і 50 мільйонів людей вже користуються його чудовим ігровим досвідом Android. Технологія віртуалізації MEmu дає вам змогу відтворювати тисячі ігор Android на вашому комп'ютері, навіть найбільш насичених графікою.
Bigger screen with better graphics; Long duration, without limitation of battery or mobile data.

Full Keymapping support for precise control of keyboard and mouse or gamepad.

Multiple game accounts or tasks on single PC at one time with Multi-Instance manager.
Ready to Play?