Square Enix's Final Fantasy VII The First Soldier (Free) has finally arrived on the App Store and Google Play worldwide for free. The 75 player battle royale featuring various elements from Final Fantasy VII and the series, in general, can now be downloaded on PC with MEmu. It was previously confirmed to hit mobile in November with details like controller support and more being confirmed over the last few weeks. With the game being available for download today, Square Enix confirmed that it crossed 2,000,000 pre-registrations so all players get the Shinra Helicopter skin when servers go live. Watch the Final Fantasy VII The First Soldier opening movie below:
Weapon Skins & Character Classes 
As for the weapons and other skins, we can see the images of 5 skins on the FF7FS Twitter page.
Nail Bat (sword skin)
Umbrella (staff skin)
Military Gloves (hand-to-hand skin)
Origami Crane (shuriken skin)
Conch Shell Knife (dagger skin)
You can use Gil you obtain in matches to get the nail bat, umbrella, and other skins. Each of the skins here is designed for a specific class of soldiers.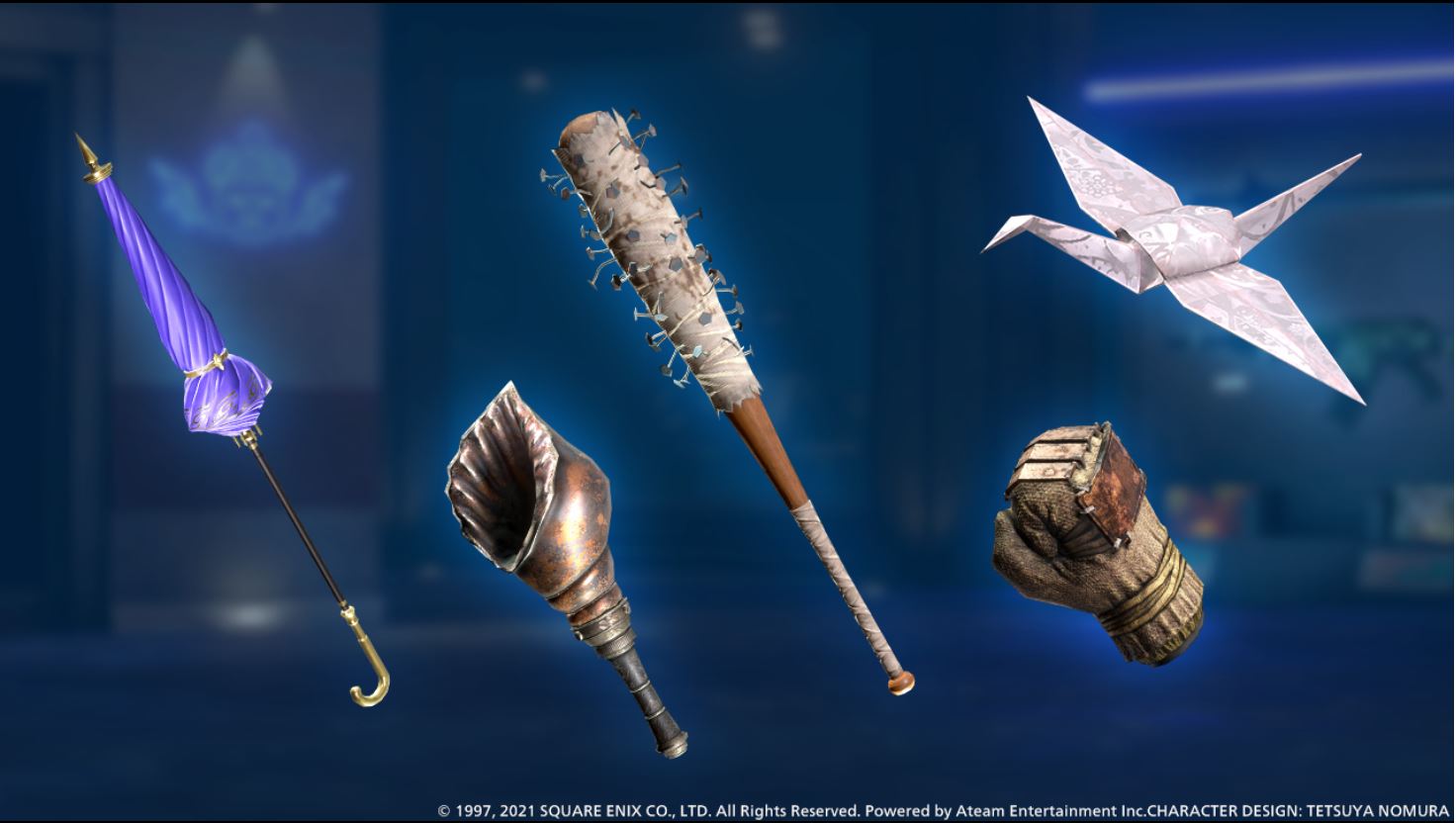 There are five classes player styles in FF7FS: the Monk, Warrior, Ninja, Sorcerer, and the Ranger class.
Monk Class
"Monks have the highest survivability among the styles and make for excellent support fighters" They fight at close range using their fists, and among the weapons listed above, Monks use the Military Gloves.
Warrior Class
"Warriors are masters of melee combat, keep your distance if you face one." This class also fights at close range, but instead of fists, they use a sword, so the Nail Bat sword skin is their mojo.
Ninja Class
"Covert style skilled in stealth and mobility, perfect for delivering surprise attacks" They are mid-range fighters with shuriken weapons; the Ninja class will use the Origami Crane skin.
Sorcerer Class
"Sorcerers excel at using materia in combat. Their Fire, Blizzard, and Thunder effects are stronger than other styles" They are mid-range fighters with staff as a weapon as such Sorcerers will use the Umbrella skin.
Ranger Class
"Rangers utilize superior tracing skills to hunt enemies and pick them off from a distance." They are long-range fighters who use daggers, that is, the Conch Shell Knife skin from the list.
Not to mention, in FF7FS, you can freely customize your character's appearance. There are over 10 MILLION possible combinations. Choose the skin tone, hairstyle, facial features, and voice to create a unique SOLDIER candidate.
Final Fantasy VII The First Soldier includes a training mode, controller support, a revamped tutorial, collection to exchange pieces from monsters for items, a new Ninja gameplay style, and more as additions from the previous tests. If you'd like to check it out, you can download Final Fantasy VII The First Soldier on Google Play for Android with MEmu. The download size is listed as 1.6GB on the Google Store, but it has an in-game download for additional data. Final Fantasy VII The First Soldier is free to play with in-app purchases of different "Shinra Credit Sets". What do you think of Final Fantasy VII The First Soldiers so far and will you be playing it when servers go live?
Discover More about MEmu Play

FINAL FANTASY VII THE FIRST SOLDIER