Krafton has proven once again that Battlegrounds Mobile India is designed specifically for Indian users. It has been launching numerous in-game activities in celebration of Indian holidays. The BGMI Ganesh Chaturthi Event is Krafton's newest event, and it will award players with a free shirt as well as AG cash.
Since its formal launch in July, Battlegrounds Mobile India has grown significantly, with millions of gamers now actively using the game. With three official events under its belt and a fourth in the works, BGMI could soon overtake other games in terms of popularity. Furthermore, Krafton's efforts to connect with Indians through events relating to Indian festivals have been praised by a number of gamers around the country.
This article examines the BGMI Ganesh Chaturthi Event, a newly announced event that will award participants with a permanent shirt as well as AG (Ace Gold) currency on a daily basis.
BGMI Ganesh Chaturthi Event: How to get the Wild Elephant Shirt for free?
Because Ganesh Chaturthi falls on the 10th of September this year, the event was issued earlier today, on the 8th of September, 2021. By completing daily assignments, players can earn Supply crate coupon scraps, a free shirt, and AG currency.
Ganesh Chaturthi: New Beginnings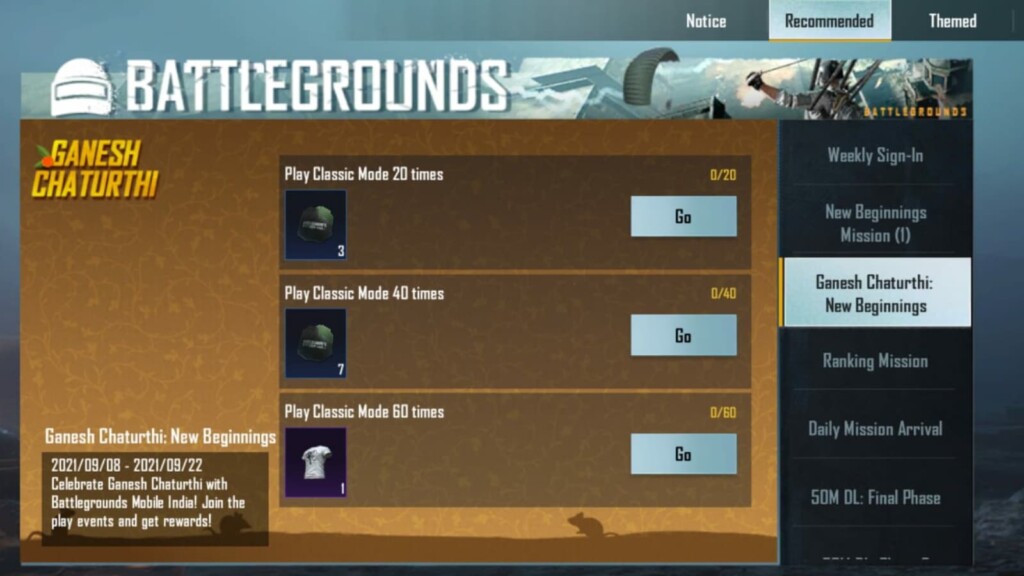 Play Classic Mode 20 times – 3 supply crate coupon scrap
Play Classic Mode 40 times – 7 supply crate coupon scrap
Play Classic Mode 60 times – 1 Wild Elephant Shirt
New Beginnings Mission (1)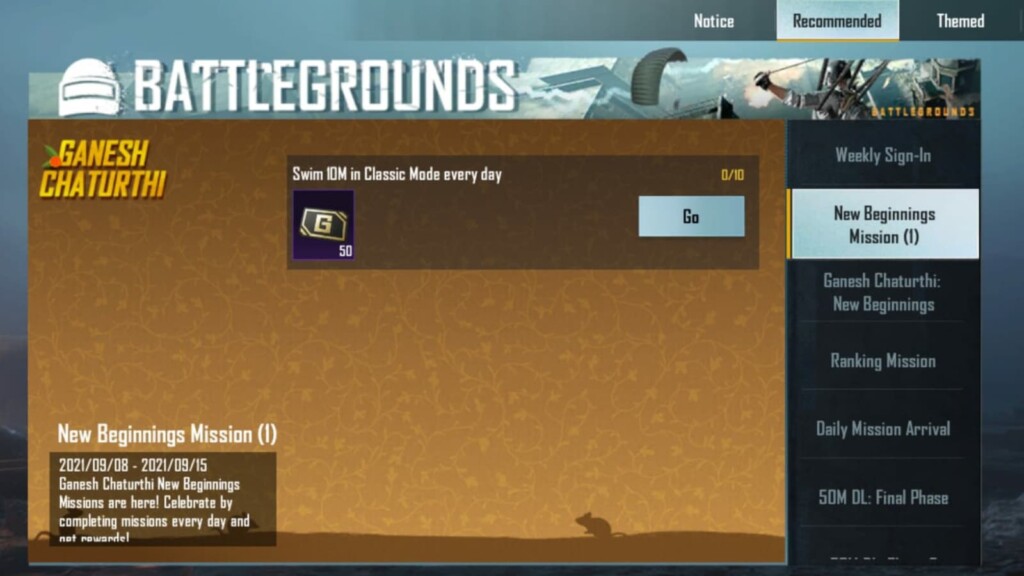 Swim 10m in classic mode every day – 50 AG Cash
Aside from the tasks in the new event, players can also participate in the Ranking Mission Arrival and Daily Mission Arrival, which will award AG Cash, Classic Crate coupons, and other rewards. To earn the incentives, players must play more classic matches in BGMI and place in the top five.
These events can be found in the Event section's Recommended Tab. In the next days, players may expect to witness more tasks in the BGMI Ganesh Chaturthi Event. Because the event is set to finish on September 15, 2021, participants are encouraged to complete the assignments ahead of time in order to receive the Wild Elephant Shirt for free.
Discover More about MEmu Play