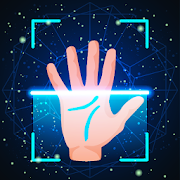 FortuneScope: live palm reader and fortune teller
RBR Mobile
Features of FortuneScope: live palm reader and fortune teller on PC
Přestaňte se obávat přebíjení při používání FortuneScope: live palm reader and fortune teller na mobilním telefonu, uvolněte se z malé obrazovky a užívejte si aplikace na mnohem větším displeji. "Společnost MEmu vám nabízí všechny překvapivé funkce, které jste očekávali: rychlá instalace a snadné nastavení, intuitivní ovládání, žádná omezení baterií, mobilní data a rušivá volání. Zcela nový přístroj MEmu 7 je nejlepší volbou použití FortuneScope: live palm reader and fortune teller ve vašem počítači. díky naší absorpci umožňuje správce více instancí otevření 2 nebo více účtů současně. A co je nejdůležitější, náš exkluzivní emulační modul může uvolnit plný potenciál vašeho počítače, učinit vše plynulým a příjemným.
Screenshots & Video of FortuneScope: live palm reader and fortune teller PC
Vychutnejte si vynikající zážitek z přehrávání FortuneScope: live palm reader and fortune teller na PC s MEMU App Player. Je to silný bezplatný emulátor pro Android, který vám umožní hrát tisíce her v systému Android. Live future reading based on the hand scan.
Game Info
Live future reading based on the hand scan. Love horoscope, finance and business, health horoscope by professional palm readers. Individual future horoscope 2020. Yearly, weekly and daily forecast.
PALM READER
Hand reading or palmistry is the way to know about your life. Experienced palm readers read hand lines and based on them, they can make daily horoscopes or annual horoscope and fortune telling. Get all benefits from our live palm reader! How so? Every palm is individual so with the palm reading app you get personalized results.
ZODIAC READING
Zodiac horoscope helps discover what stars hold for you. Our astrology app creates daily horoscope, weekly and annual horoscope for all zodiac signs - aries horoscope, scorpio horoscope, gemini horoscope, virgo horoscope and many more. Want to get your horoscope today? Based on the location of the sun, stars and planets, a personal fortune teller will make descriptions for your zodiac sign.
DAILY FUTURE TELLER for LOVE, FINANCE, BUSINESS, HEALTH
Future horoscope for all life areas. Our fortune teller app creates personal daily forecast: love horoscope, health horoscope, sex horoscope, finance horoscopes and business horoscopes.
- daily love horoscope
- single horoscopes and couples horoscopes
- love compatibility horoscopes: compatibility check
- zodiac compatibility (compatibility test for zodiac signs)
- sexual compatibility
- name compatibility
- numerology horoscope
- health horoscope: when to take care of your health
- finance horoscopes: best time to attract money
- business horoscopes: best time for business affairs
Astrology palm reading app for all zodiac signs! Read daily horoscope for:
♈- Aries horoscope
♉- Taurus horoscope
♊- Gemini horoscope
♋- Cancer horoscope
♌- Leo horoscope
♍- Virgo horoscope
♎- Libra horoscope
♏- Scorpio horoscope
♐- Sagittarius horoscope
♑- Capricorn horoscope
♒- Aquarius horoscope
♓- Pisces horoscope
MAYAN CALENDAR (MAYAN ASTROLOGY APP) + DRUID ASTROLOGY APP
Mayan calendar lets you learn your Mayan sign and and see what the ancients had to say about your traits. Druid horoscope is for those who are intrigued by fortune telling and mystical powers.
Why FortuneScope?
Future reading and fortune telling comes in many ways - palm reader who read hands; zodiac reading with daily zodiac horoscopes; tarot reader with daily tarot card reading; numerology horoscopes.
Palm reading is made with a special hand scan that read hand lines. Them our palm scanner analyze the info and send it to our fortune teller and palm reader expert who creates astrology palm predictions and makes future reading.
Hand reading, or palmistry, is an possible way to create your love horoscope or health horoscope based on hand lines. In our app you can get free palm reading or get a daily reader and receive palm reading predictions every day.
If you prefer astrology future telling and zodiac reading, you can get daily forecast for all horoscope zodiac signs in our fortune teller app. Together with daily horoscopes (or annual horoscope 2020, etc. if you choose) you can all check horoscope compatibility and love compatibility, and discover what the future will bring in all areas of your life. This is what health horoscope, finance and business horoscopes are for.
We're constanly working on improving our service. More palm readers join our fortune telling team daily and hand reading has become our main specialization.

How to Download FortuneScope: live palm reader and fortune teller on PC
1. Download MEmu installer and finish the setup

2. Start MEmu then open Google Play on the desktop

3. Search FortuneScope: live palm reader and fortune teller in Google Play

4. Download and Install FortuneScope: live palm reader and fortune teller

5. On install completion click the icon to start

6. Enjoy playing FortuneScope: live palm reader and fortune teller on PC with MEmu
Why Use MEmu for FortuneScope: live palm reader and fortune teller
MEmu je zdarma a ten nejlepší Android emulátor. 50 milionů lidí si užívá jeho nejlepší herní zážitky. Technologie virtualizace MEmu ti dovolí plynule hrát Android hry na PC a to i ty nejnáročnější.
Bigger screen with better graphics; Long duration, without limitation of battery or mobile data.

Full Keymapping support for precise control of keyboard and mouse or gamepad.

Multiple game accounts or tasks on single PC at one time with Multi-Instance manager.
Ready to Play?