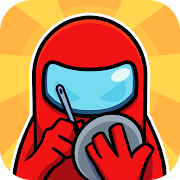 Great Arcade Games
Features of Squid But It's Impostor on PC
With all your passion for playing Squid But It's Impostor, you hands are not supposed to be limited on a tiny screen of your phone. Play like a pro and get full control of your game with keyboard and mouse. MEmu offers you all the things that you are expecting. Download and play Squid But It's Impostor on PC. Play as long as you want, no more limitations of battery, mobile data and disturbing calls. The brand new MEmu 7 is the best choice of playing Squid But It's Impostor on PC. Prepared with our expertise, the exquisite preset keymapping system makes Squid But It's Impostor a real PC game. Coded with our absorption, the multi-instance manager makes playing 2 or more accounts on the same device possible. And the most important, our exclusive emulation engine can release full potential of your PC, make everything smooth. We care not only how you play, but also the whole process of enjoying the happiness of gaming.
Screenshots & Video of Squid But It's Impostor PC
Vychutnejte si vynikající zážitek z přehrávání Squid But It's Impostor na PC s MEMU App Player. Je to silný bezplatný emulátor pro Android, který vám umožní hrát tisíce her v systému Android. Are you a fan of Squid Challenge Survival?
Game Info
Are you a fan of Squid Challenge Survival? Or you are a fan of Impostor Crewmate? Join us in Squid But It's Impostor game. A combination of two top-notch theme games can make you satisfied? Old but gold!
Now, this red light folk game is available on smartphones and you can play it anywhere, whenever you want. Not only the red, green light game but also four classic iconic games are for you. Easy to play but not easy to win.
Full modes are now available:
- Red, green light
- Glass Bridge
- Tug of War
- Dalgona candy
- Marbles
How to play Squid But It's Impostor game:
ϟ Touch the player to move
ϟ Run fast while the doll is counting
ϟ Stand still when the doll turns its head
ϟ Be one of the 5 people to finish first
ϟ The game will end if you reach the finish line late and let the red light see you move

Now your motion supervisor is a doll. Try to run as fast as you can to the finish line without being detected by the doll. You have to try to run fast and touch the wall because only the first 5 people to the finish line can survive. If you are not in the top 5, the worst will come to you.
The doll will change the counting speed continuously, sometimes very quickly and sometimes very slowly. What you need is the speed and acumen of this scary doll in rhythm counting. Or it can be understood that you need to move sneaky but quickly to reach the finish line.

Game Features
✶ Many levels with different difficulty
✶ Levels are constantly being updated
✶ Simple design, easy to control
✶ Beautiful and vivid graphics with realistic sounds.

4️⃣ 5️⃣ 6️⃣ Attention all players, the game is about to begin!!! 4️⃣ 5️⃣ 6️⃣
Would you like to become participant number 456? Beat off other competitors and be the only one who wins 45.6$ billion Golden Piggy Bank. Pass all the levels to become the champion and get the reward you deserve.

If you love the Squid But It's Impostor game, rate us 5⭐️⭐️⭐️⭐️⭐️ and leave your feedback below. Your support is always the motivation for us to continue to develop even better products in the future.

How to Download Squid But It's Impostor on PC
1. Download MEmu installer and finish the setup

2. Start MEmu then open Google Play on the desktop

3. Search Squid But It's Impostor in Google Play

4. Download and Install Squid But It's Impostor

5. On install completion click the icon to start

6. Enjoy playing Squid But It's Impostor on PC with MEmu
Why Use MEmu for Squid But It's Impostor
MEmu je zdarma a ten nejlepší Android emulátor. 50 milionů lidí si užívá jeho nejlepší herní zážitky. Technologie virtualizace MEmu ti dovolí plynule hrát Android hry na PC a to i ty nejnáročnější.
Bigger screen with better graphics; Long duration, without limitation of battery or mobile data.

Full Keymapping support for precise control of keyboard and mouse or gamepad.

Multiple game accounts or tasks on single PC at one time with Multi-Instance manager.
Ready to Play?