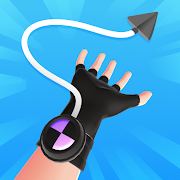 Features of Ropeman 3D on PC
With all your passion for playing Ropeman 3D, you hands are not supposed to be limited on a tiny screen of your phone. Play like a pro and get full control of your game with keyboard and mouse. MEmu offers you all the things that you are expecting. Download and play Ropeman 3D on PC. Play as long as you want, no more limitations of battery, mobile data and disturbing calls. The brand new MEmu 7 is the best choice of playing Ropeman 3D on PC. Prepared with our expertise, the exquisite preset keymapping system makes Ropeman 3D a real PC game. Coded with our absorption, the multi-instance manager makes playing 2 or more accounts on the same device possible. And the most important, our exclusive emulation engine can release full potential of your PC, make everything smooth. We care not only how you play, but also the whole process of enjoying the happiness of gaming.
Screenshots & Video of Ropeman 3D PC
Απολαύστε την υπέροχη εμπειρία αναπαραγωγής του Ropeman 3D σε υπολογιστή με το MEMU App Player. Πρόκειται για έναν ισχυρό δωρεάν εξομοιωτή Android που σας επιτρέπει να παίζετε χιλιάδες παιχνίδια Android. Are you ready to hook and smash them up?
Game Info
Are you ready to hook and smash them up? Become the hero of the century in this non-stop, mind-blowing action shooter. There's nothing you can't do with your unique hook weapon, but you'll need to also think strategically, and take out the bad guys before they get their chance to take you out!

Take aim and get your opponents off track! Toss your grappling hook and tear down the platforms that your enemies are standing on or simply pull objects down on top of them. Whether you're tearing down water towers, pulling attack choppers or blowing up explosive barrels, there is so much you can do!
Game Features:
Non-stop Action
Shoot your hook and pull down helicopters, buildings, or even the bad guys themselves, then toss them into one another to complete each level.

Brain-Teasing Strategy:
Plan your attack to take out the bad guy in time. Each new level pose new challenges and you will need to take out the bad guys quickly
Test Your Aim:
Test your hand eye coordination and hook the bad guys before they can take you out! Each new level poses new challenges to your quick thinking skills.
Take a load off:
Immerse yourself in the role of the next great action hero! Is life getting a little crazy? Escape for a little in your own action story!

Visit https://lionstudios.cc/contact-us/ if have any feedback, need help on beating a level or have any awesome ideas you would like to see in the game!
From the Studio that brought you Mr. Bullet, Happy Glass, Ink Inc and Love Balls!
Follow us to get news and updates on our other Award Winning titles;
https://lionstudios.cc/
Facebook.com/LionStudios.cc
Instagram.com/LionStudioscc
Twitter.com/LionStudiosCC
Youtube.com/c/LionStudiosCC

How to Download Ropeman 3D on PC
1. Download MEmu installer and finish the setup

2. Start MEmu then open Google Play on the desktop

3. Search Ropeman 3D in Google Play

4. Download and Install Ropeman 3D

5. On install completion click the icon to start

6. Enjoy playing Ropeman 3D on PC with MEmu
Why Use MEmu for Ropeman 3D
Το MEmu App Player, αποτελεί την ιδανικότερη δωρεάν λύση για την εξομοίωση του λειτουργικού Android, και χρησιμοποιείται ήδη από περισσότερους από 50 εκατομμύρια χρήστες, ο οποίοι απολαμβάνουν, την καταπληκτική εμπειρία παιχνιδιού που προσφέρεται μέσω της εφαρμογής. Με τη χρήση του MEmu Virtualization, είναι δυνατή η αναπαραγωγή παιχνιδιών Android στον υπολογιστή, ακόμη και εκείνων που απαιτούν μεγάλη επεξεργαστική ισχύ γραφικών, δίχως συμβιβασμούς στην ποιότητα και στην εμπειρία χρήσης, ακριβώς όπως ένα τελευταίας γενιάς κινητό τηλέφωνο.
Bigger screen with better graphics; Long duration, without limitation of battery or mobile data.

Full Keymapping support for precise control of keyboard and mouse or gamepad.

Multiple game accounts or tasks on single PC at one time with Multi-Instance manager.
Ready to Play?