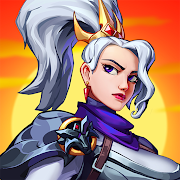 Empire Defender TD: Premium
Fitur Empire Defender TD: Premium di PC
Dengan seluruh passion-mu untuk bermain Empire Defender TD: Premium, tidak seharusnya tanganmu terbatasi oleh layar kecil ponselmu. Bermainlah seperti profesional dan dapatkan kontrol penuh gim kesukaanmu dengan keyboard dan mouse. MEmu menawarkan semua hal yang kamu harapkan. Unduh dan mainkan Empire Defender TD: Premium di PC. Mainkan selama apapun yang kamu inginkan, tidak akan ada lagi batasan baterai, data seluler, dan panggilan yang mengganggu. MEmu 8 yang baru adalah pilihan terbaik untuk memainkan Empire Defender TD: Premium di PC. Telah dipersiapkan dengan keahlian yang kami miliki, sistem keymapping mandiri nan indah, menciptakan gim Empire Defender TD: Premium PC yang nyata. Disandi dengan penyerapan kami, membuat multi-instance manager bisa membuatmu memainkan dua atau lebih akun pada perangkat yang sama. Dan yang paling penting, mesin emulasi eksklusif kami dapat melepaskan seluruh potensi PC Anda, sehingga membuat semua berjalan lancar. Kami tidak hanya peduli bagaimana kamu bermain, tetapi juga seluruh proses menikmati kebahagiaan dalam bermain gim.
Tangkapan layar & Vidio Empire Defender TD: Premium PC
Unduh Empire Defender TD: Premium di PC dengan Emulator Android MEmu. Nikmati permainan pada layar yang besar. This is premium version of Empire Defender, Play now to experience the privilege!
Info gim
This is premium version of Empire Defender, Play now to experience the privilege!
You're a skillful master in strategy game? Thrive on your wise tactics and fight formidable opponents. Lead your mighty heroes and defend the frontiers of your realm from the darkness!
Enter the strategy game with millions of players in an endless battle around the world to win victory and fame.
If you are a true Fantasy Tower Defense fan, this TD Offline strategy game can't be missed! You will be surprised by the wonderful graphics and impressive gameplay.
Your goal in this strategy game is to build your own plan to safeguard your throne and eradicate invaders, bringing peace back to your realm. Not only does this catch the most enticing characteristics of a TD game, but it also has many new features that keep you playing for hours!
GAME FEATURES
▶ An epic tower defense that is attractive, fun and free! We name it Battle TD (btd).
▶ Offline mode that you can play anywhere at anytime.
▶ High quality graphics than most of the other tower defense and strategy games.
▶ Consider all power in your hand, carefully learn about your enemy to have the most suitable strategy and tactics. Build your best defense and reach glorious victory!
▶ 120+ maps and levels that are both challenging and interesting in a strategy game.
▶ 4 types of Defence Towers with different functions and strengths, come along with 5 upgradable options. Archer, Mage, Warrior, Dragon, Golem,..all is yours.
▶ 11 Heroes with different powers and skills. Choose your heroes to lead the btd 6 war and rush a vengeance. Defeat or being defeated, it's up to you!
▶ 10+ types of unique Runes that help strengthen your heroes so that they can push away any fierceful bosses and invaders.
▶ 30+ types of enemies with their own evil skills. Don't underestimate the minions, or they will destroy your castle!
▶ The intense boss fight in this addictive strategy and tower defence games and realm defense that you can never see in any other free td games!
▶ 5 Power-ups - the true saviors in the hardest defense moments.
▶ More than 100 achievements in this games - await for the mightiest defender to conquer!
▶ Competitive Tournament: Let's see who is the best defender in the world championship, the Infinite Challenge!
Heads up and rush into protecting your castle and kingdom from the evil enemies. Get ready for the most epic battles td 6 of all time.
We're waiting for you to claim the title of Best Defender Ever!
Contact us for further support and information about Empire Warriors TD:
- E-mail: empiredefender@zitga.com.vn
- Official Fanpage: https://www.facebook.com/empire.defender.official
- Official Group: https://www.facebook.com/groups/empiredefender

Unduh Empire Defender TD: Premium di PC
1. Unduh dan instal MEmu APP

2. Menjalankan MEmu lalu buka Google Play di halaman

3. Cari Empire Defender TD: Premium di Google Play

4. Unduh dan instal Empire Defender TD: Premium

5. Setelah insatl APP selesai,klik ikon untuk mulai

6. Nikmati bermain Empire Defender TD: Premium di PC dengan MEmu
Kenapa Memakai MEmu untuk Empire Defender TD: Premium
MEmu App Player adalah emulator Android gratis terbaik dan 50 Juta orang sudah menikmati pengalaman luar biasa dalam bermain gim Android. Teknologi virtualisasi MEmu memberi kekuasaan untuk memainkan ribuan gim Android dengan lancar di PC anda, bahkan gim dengan grafis yang paling tinggi.
Layar lebih besar dengan grafis yang lebih baik; durasi panjang, tanpa batasan baterai atau data seluler.

Didukung penuh oleh Pemetaan tombol yang lengkap untuk keakuratan kontrol keyboard dan mouse maupun gamepad.

Membuka beberapa akun game atau tugas di waktu yang sama hanya pada satu PC, dengan Multi-Instance manager.
Siap bermain?