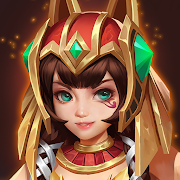 Funkcje Modern Dead na PC
Przy całej swojej pasji do grania w Modern Dead, twoje ręce nie powinny być ograniczone na małym ekranie telefonu. Graj jak zawodowiec i uzyskaj pełną kontrolę nad grą za pomocą klawiatury i myszy. MEmu oferuje ci wszystko, czego oczekujesz. Pobierz i graj Modern Dead na PC. Graj tak długo, jak chcesz, bez ograniczeń baterii, danych komórkowych i niepokojących połączeń. Zupełnie nowy MEmu 7 to najlepszy wybór do grania w Modern Dead na PC. Przygotowany dzięki naszej wiedzy, znakomity, wstępnie ustawiony system mapowania klawiszy sprawia, że Modern Dead jest prawdziwą grą na PC. Zakodowany naszą absorpcją, menedżer wielu instancji umożliwia granie na 2 lub więcej kontach na tym samym urządzeniu. A co najważniejsze, nasz emulator może uwolnić pełny potencjał twojego komputera, sprawić, że wszystko będzie płynne. Dbamy nie tylko o to, jak grasz, ale także o cały proces czerpania radości z grania.
Zrzuty ekranu i wideo z Modern Dead PC
Ciesz się wspaniałym doświadczeniem podczas grania w Modern Dead na komputerze z aplikacją MEMU App Player. Jest to potężny darmowy emulator Androida pozwalający grać w tysiące gier na Androida. Whomever controls the Elements , controls the world!
Informacje o grze
Whomever controls the Elements , controls the world!
Since time immemorial those in control have been Gods on the Floater, and the Elves of the Green Land, and they have used their Elemental power to exile the Humans to the barren Outlands with the barbaric Wildlings.
History has chosen you to unite allied races and lead an uprising to break their hold on the elements and utilize the power of magic for the benefit of all!
While hiding in the shadows, the Lord of the Elements bides his time, waiting for the moment to strike...
[Game Features]
◆Smooth Real-time Movement
Danger lurks everywhere on the battlefield, and to make the right moves you need to know what's going on at all times. Should you lure your enemies in deep and then besiege them? Should you divide and conqueror them? Or will you charge straight in, carving through their ranks? None may know their destiny until the moment arrives!
My Lord, great heroes and brave soldiers await your commands! Cooperate closely with allies and make the right adjustments to ensure victory!
◆Original Heroes of Various Types
Call upon dozens of heroes who will serve as your trustworthy commanders, from the cunning Wolf King and deadly Spider Queen, to the righteous Light Bringer and alluring Six-tailed Fox.
Featuring next-gen animation and lifelike dubbing, these amazing heroes will immerse you in a magical world of action and adventure you'll never want to leave!
◆Changeable Skill Combinations
The original open skill combos are like nothing else you've seen before!
Different heroes can cooperate and react with each other, allowing you to mix and match heroes to create fantastic combo effects!
◆Seamless World Map
From lush forests and crystal lakes to frozen snowfields and verdant grasslands, this world is filled with unmatched elemental beauty and power. What will you face? A barbarous Wildling lurking in the darkness? A mysterious visitor from afar? A dangerous enemy? Or friends and allies fighting hard to support each other?
Unify the world of the Elements and fulfill your destiny!
◆Multiplayer Collaboration
One tree does not make a forest. Unite and fight side by side against the forces of evil with your Alliance brothers and sisters!
Do you have what it takes to rise from nothing and rule the world? Now is the time to strive for hegemony and obtain the power left to the world by the ancient Gods!
[Follow Us]
Please follow us on Facebook to get more game info and news. We welcome comments, messages, and feedback at any time!
Facebook: https://www.facebook.com/Elemencraft

Jak pobrać Modern Dead na PC
1. Pobierz instalator MEmu i zakończ instalację

2. Uruchom MEmu, a następnie otwórz Google Play na pulpicie

3. Wyszukaj Modern Dead w Google Play

4. Pobierz i zainstaluj Modern Dead

5. Po zakończeniu instalacji kliknij ikonę, aby rozpocząć

6. Ciesz się grą Modern Dead na PC z MEmu
Dlaczego warto używać MEmu dla Modern Dead
MEmu Play to najlepszy emulator Androida, a 100 milionów ludzi już korzysta z jego i dosta doskonałe wrażenia z gier na Androida. Technologia wirtualizacji MEmu umożliwia płynne granie w tysiące gier Androida na komputerze, nawet tych najbardziej wymagających grafiki.
Większy ekran z lepszą grafiką; Długi czas, bez ograniczeń baterii lub danych mobilnych.

Pełna obsługa mapowania klawiszy dla precyzyjnego sterowania klawiaturą i myszą lub gamepadem.

Wiele kont gier lub zadań na jednym komputerze jednocześnie z menedżerem wielu instancji.
Gotowy do gry?