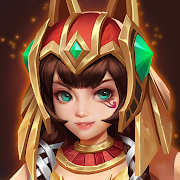 Fitur Modern Dead di PC
Dengan seluruh passion-mu untuk bermain Modern Dead, tidak seharusnya tanganmu terbatasi oleh layar kecil ponselmu. Bermainlah seperti profesional dan dapatkan kontrol penuh gim kesukaanmu dengan keyboard dan mouse. MEmu menawarkan semua hal yang kamu harapkan. Unduh dan mainkan Modern Dead di PC. Mainkan selama apapun yang kamu inginkan, tidak akan ada lagi batasan baterai, data seluler, dan panggilan yang mengganggu. MEmu 8 yang baru adalah pilihan terbaik untuk memainkan Modern Dead di PC. Telah dipersiapkan dengan keahlian yang kami miliki, sistem keymapping mandiri nan indah, menciptakan gim Modern Dead PC yang nyata. Disandi dengan penyerapan kami, membuat multi-instance manager bisa membuatmu memainkan dua atau lebih akun pada perangkat yang sama. Dan yang paling penting, mesin emulasi eksklusif kami dapat melepaskan seluruh potensi PC Anda, sehingga membuat semua berjalan lancar. Kami tidak hanya peduli bagaimana kamu bermain, tetapi juga seluruh proses menikmati kebahagiaan dalam bermain gim.
Tangkapan layar & Vidio Modern Dead PC
Unduh Modern Dead di PC dengan Emulator Android MEmu. Nikmati permainan pada layar yang besar. Whomever controls the Elements , controls the world!
Info gim
Whomever controls the Elements , controls the world!
Since time immemorial those in control have been Gods on the Floater, and the Elves of the Green Land, and they have used their Elemental power to exile the Humans to the barren Outlands with the barbaric Wildlings.
History has chosen you to unite allied races and lead an uprising to break their hold on the elements and utilize the power of magic for the benefit of all!
While hiding in the shadows, the Lord of the Elements bides his time, waiting for the moment to strike...
[Game Features]
◆Smooth Real-time Movement
Danger lurks everywhere on the battlefield, and to make the right moves you need to know what's going on at all times. Should you lure your enemies in deep and then besiege them? Should you divide and conqueror them? Or will you charge straight in, carving through their ranks? None may know their destiny until the moment arrives!
My Lord, great heroes and brave soldiers await your commands! Cooperate closely with allies and make the right adjustments to ensure victory!
◆Original Heroes of Various Types
Call upon dozens of heroes who will serve as your trustworthy commanders, from the cunning Wolf King and deadly Spider Queen, to the righteous Light Bringer and alluring Six-tailed Fox.
Featuring next-gen animation and lifelike dubbing, these amazing heroes will immerse you in a magical world of action and adventure you'll never want to leave!
◆Changeable Skill Combinations
The original open skill combos are like nothing else you've seen before!
Different heroes can cooperate and react with each other, allowing you to mix and match heroes to create fantastic combo effects!
◆Seamless World Map
From lush forests and crystal lakes to frozen snowfields and verdant grasslands, this world is filled with unmatched elemental beauty and power. What will you face? A barbarous Wildling lurking in the darkness? A mysterious visitor from afar? A dangerous enemy? Or friends and allies fighting hard to support each other?
Unify the world of the Elements and fulfill your destiny!
◆Multiplayer Collaboration
One tree does not make a forest. Unite and fight side by side against the forces of evil with your Alliance brothers and sisters!
Do you have what it takes to rise from nothing and rule the world? Now is the time to strive for hegemony and obtain the power left to the world by the ancient Gods!
[Follow Us]
Please follow us on Facebook to get more game info and news. We welcome comments, messages, and feedback at any time!
Facebook: https://www.facebook.com/Elemencraft

Unduh Modern Dead di PC
1. Unduh dan instal MEmu APP

2. Menjalankan MEmu lalu buka Google Play di halaman

3. Cari Modern Dead di Google Play

4. Unduh dan instal Modern Dead

5. Setelah insatl APP selesai,klik ikon untuk mulai

6. Nikmati bermain Modern Dead di PC dengan MEmu
Kenapa Memakai MEmu untuk Modern Dead
MEmu App Player adalah emulator Android gratis terbaik dan 50 Juta orang sudah menikmati pengalaman luar biasa dalam bermain gim Android. Teknologi virtualisasi MEmu memberi kekuasaan untuk memainkan ribuan gim Android dengan lancar di PC anda, bahkan gim dengan grafis yang paling tinggi.
Layar lebih besar dengan grafis yang lebih baik; durasi panjang, tanpa batasan baterai atau data seluler.

Didukung penuh oleh Pemetaan tombol yang lengkap untuk keakuratan kontrol keyboard dan mouse maupun gamepad.

Membuka beberapa akun game atau tugas di waktu yang sama hanya pada satu PC, dengan Multi-Instance manager.
Siap bermain?