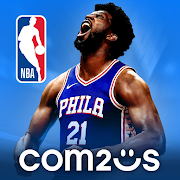 PC'de NBA NOW 21 özellikleri
With all your passion for playing NBA NOW 21, you hands are not supposed to be limited on a tiny screen of your phone. Play like a pro and get full control of your game with keyboard and mouse. MEmu offers you all the things that you are expecting. Download and play NBA NOW 21 on PC. Play as long as you want, no more limitations of battery, mobile data and disturbing calls. The brand new MEmu 8 is the best choice of playing NBA NOW 21 on PC. Prepared with our expertise, the exquisite preset keymapping system makes NBA NOW 21 a real PC game. MEmu multi-instance manager makes playing 2 or more accounts on the same device possible. And the most important, our exclusive emulation engine can release full potential of your PC, make everything smooth.
NBA NOW 21 PC'in ekran görüntüleri ve Video
NBA NOW 21'i MEmu Android Emülatör ile PC'ye indirin. Büyük ekranda oynamanın keyfini çıkarın. Elevate Your Game, NBA NOW 22!
Oyun bilgisi
Elevate Your Game, NBA NOW 22!
NBA Stars Await You in NBA NOW 22! Join the League and Show 'em What You Got!
[NBA NOW 22 Features]
■ NBA LICENSED ■
- Experience an exciting NBA experience by playing on real NBA courts with real NBA players
■ Simple and Easy Gameplay ■
- Precisely control the ball while going in for a dunk
- Play with one hand, and win the NBA Championship
■ Play a Realistic NBA Experience ■
- Play with all NBA teams in every stadium across the full '21-'22 NBA season schedule
- Live cards update player stats according to each player's real-life performance- And much more!
- In Prediction you can predict the result of real-life NBA games
■ Build Your Lineup with Your Favorite NBA Players ■
- Collect players from All-Stars to retired, legendary players to complete your lineup
- Manage and build your own championship team
■ Compete Against Users from All Over the World ■
- In Ranked Battle, it's you versus the world
- Challenge yourself all the way to a championship
- In Friend Battle, play with your friends across the globe
Become a great player like Joel Embiid,
and enjoy thrilling games in NBA NOW 22!
***
Language Support:
English, 한국어, 日本語, 中文简体, 中文繁體, Deutsch, Français, Português and Español
***
• The game offers in-app purchases for some game items. You may be charged with real money when you purchase items and some paid items may not be refundable depending on the type of item.
• For Terms of Service/Refund Policy, visit http://terms.withhive.com/terms/mobile/policy.html or refer to Terms of Service/Refund Policy in the game.
• For questions or customer support, please contact our Customer Support by visiting http://customer-m.withhive.com/ask.
***
Mobile Phone Access Permission Notice
▶ Notice per Access Permission
The app needs permission to access the following to provide game service.
[Required]
- None
[Optional]
- PHONE: The permission is required to proceed with in-game events and rewards and will not affect calls.
- STORAGE: The authority is required to use an external memory storage for additional downloads.

PC'de NBA NOW 21 nasıl indirilir
1. MEmu yükleyicisini indirin ve kurulumu tamamlayın

2. MEmu'yu başlatın ve ana sayfada Google Play'i açın

3. Google Play'de NBA NOW 21 arayın

4. NBA NOW 21 indirin ve yükleyin

5. Kurulum tamamlandığında başlamak için simgeye tıklayın

6. PC'de MEmu ile NBA NOW 21 oyunun keyfini çıkarın
Neden NBA NOW 21 için MEmu kullanın
MEmu App Player, en iyi ücretsiz Android emülatörüdür ve 50 milyon insan zaten mükemmel Android oyun deneyimini yaşamaktadır. MEmu sanallaştırma teknolojisi, binlerce grafik oyunu hatta grafikte en yoğun olanları bile sorunsuz bir şekilde bilgisayarınızda oynamanızı sağlar.
Daha büyük ekranla daha iyi grafiklere sahip; Pil veya mobil veri sınırlaması olmaksızın uzun süre.

Keymapping klavye ve fare veya gamepad'in hassas kontrolü için destek verir.

Multi-Instance yöneticisi ile tek bir bilgisayarda aynı anda birden fazla oyun hesabı veya görev gerçekleşilebilir.
Oynamaya hazır mısınız?