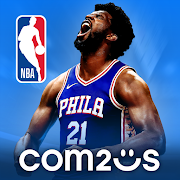 Features of NBA NOW 21 on PC
Перестаньте турбуватися про надмірні витрати, використовуючи ххх на своєму мобільному телефоні, звільніться від крихітного екрану і насолоджуйтеся використанням програми на набагато більшому дисплеї. Відтепер отримуйте повний екран свого додатка за допомогою клавіатури та миші. MEmu пропонує вам усі дивовижні функції, які ви очікували: швидка установка та просте налаштування, інтуїтивно зрозумілі елементи керування, більше обмежень від акумулятора, мобільних даних та тривожних дзвінків. Новий MEmu 7 - найкращий вибір використання NBA NOW 21 на вашому комп'ютері. За допомогою нашого поглинання менеджер із кількома примірниками одночасно дозволяє відкрити 2 або більше рахунків. І найголовніше, наш ексклюзивний емуляційний двигун може вивільнити весь потенціал вашого ПК, зробити все гладким і приємним.
Screenshots & Video of NBA NOW 21 PC
Насолоджуйтесь чудовим досвідом гри на ПК за допомогою програми MEMU App Player. Це потужний безкоштовний емулятор Android, який дозволяє вам грати в тисячі ігор Android. Elevate Your Game, NBA NOW 22!
Game Info
Elevate Your Game, NBA NOW 22!
NBA Stars Await You in NBA NOW 22! Join the League and Show 'em What You Got!
[NBA NOW 22 Features]
■ NBA LICENSED ■
- Experience an exciting NBA experience by playing on real NBA courts with real NBA players
■ Simple and Easy Gameplay ■
- Precisely control the ball while going in for a dunk
- Play with one hand, and win the NBA Championship
■ Play a Realistic NBA Experience ■
- Play with all NBA teams in every stadium across the full '21-'22 NBA season schedule
- Live cards update player stats according to each player's real-life performance- And much more!
- In Prediction you can predict the result of real-life NBA games
■ Build Your Lineup with Your Favorite NBA Players ■
- Collect players from All-Stars to retired, legendary players to complete your lineup
- Manage and build your own championship team
■ Compete Against Users from All Over the World ■
- In Ranked Battle, it's you versus the world
- Challenge yourself all the way to a championship
- In Friend Battle, play with your friends across the globe
Become a great player like Joel Embiid,
and enjoy thrilling games in NBA NOW 22!
***
Language Support:
English, 한국어, 日本語, 中文简体, 中文繁體, Deutsch, Français, Português and Español
***
• The game offers in-app purchases for some game items. You may be charged with real money when you purchase items and some paid items may not be refundable depending on the type of item.
• For Terms of Service/Refund Policy, visit http://terms.withhive.com/terms/mobile/policy.html or refer to Terms of Service/Refund Policy in the game.
• For questions or customer support, please contact our Customer Support by visiting http://customer-m.withhive.com/ask.
***
Mobile Phone Access Permission Notice
▶ Notice per Access Permission
The app needs permission to access the following to provide game service.
[Required]
- None
[Optional]
- PHONE: The permission is required to proceed with in-game events and rewards and will not affect calls.
- STORAGE: The authority is required to use an external memory storage for additional downloads.

How to Download NBA NOW 21 on PC
1. Download MEmu installer and finish the setup

2. Start MEmu then open Google Play on the desktop

3. Search NBA NOW 21 in Google Play

4. Download and Install NBA NOW 21

5. On install completion click the icon to start

6. Enjoy playing NBA NOW 21 on PC with MEmu
Why Use MEmu for NBA NOW 21
MEmu App Player є кращим безкоштовним емулятором Android, і 50 мільйонів людей вже користуються його чудовим ігровим досвідом Android. Технологія віртуалізації MEmu дає вам змогу відтворювати тисячі ігор Android на вашому комп'ютері, навіть найбільш насичених графікою.
Bigger screen with better graphics; Long duration, without limitation of battery or mobile data.

Full Keymapping support for precise control of keyboard and mouse or gamepad.

Multiple game accounts or tasks on single PC at one time with Multi-Instance manager.
Ready to Play?