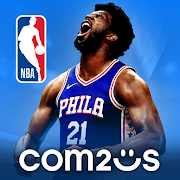 Fitur NBA NOW 21 di PC
Dengan seluruh passion-mu untuk bermain NBA NOW 21, tidak seharusnya tanganmu terbatasi oleh layar kecil ponselmu. Bermainlah seperti profesional dan dapatkan kontrol penuh gim kesukaanmu dengan keyboard dan mouse. MEmu menawarkan semua hal yang kamu harapkan. Unduh dan mainkan NBA NOW 21 di PC. Mainkan selama apapun yang kamu inginkan, tidak akan ada lagi batasan baterai, data seluler, dan panggilan yang mengganggu. MEmu 8 yang baru adalah pilihan terbaik untuk memainkan NBA NOW 21 di PC. Telah dipersiapkan dengan keahlian yang kami miliki, sistem keymapping mandiri nan indah, menciptakan gim NBA NOW 21 PC yang nyata. Disandi dengan penyerapan kami, membuat multi-instance manager bisa membuatmu memainkan dua atau lebih akun pada perangkat yang sama. Dan yang paling penting, mesin emulasi eksklusif kami dapat melepaskan seluruh potensi PC Anda, sehingga membuat semua berjalan lancar. Kami tidak hanya peduli bagaimana kamu bermain, tetapi juga seluruh proses menikmati kebahagiaan dalam bermain gim.
Tangkapan layar & Vidio NBA NOW 21 PC
Unduh NBA NOW 21 di PC dengan Emulator Android MEmu. Nikmati permainan pada layar yang besar. Elevate Your Game, NBA NOW 22!
Info gim
Elevate Your Game, NBA NOW 22!
NBA Stars Await You in NBA NOW 22! Join the League and Show 'em What You Got!
[NBA NOW 22 Features]
■ NBA LICENSED ■
- Experience an exciting NBA experience by playing on real NBA courts with real NBA players
■ Simple and Easy Gameplay ■
- Precisely control the ball while going in for a dunk
- Play with one hand, and win the NBA Championship
■ Play a Realistic NBA Experience ■
- Play with all NBA teams in every stadium across the full '21-'22 NBA season schedule
- Live cards update player stats according to each player's real-life performance- And much more!
- In Prediction you can predict the result of real-life NBA games
■ Build Your Lineup with Your Favorite NBA Players ■
- Collect players from All-Stars to retired, legendary players to complete your lineup
- Manage and build your own championship team
■ Compete Against Users from All Over the World ■
- In Ranked Battle, it's you versus the world
- Challenge yourself all the way to a championship
- In Friend Battle, play with your friends across the globe
Become a great player like Joel Embiid,
and enjoy thrilling games in NBA NOW 22!
***
Language Support:
English, 한국어, 日本語, 中文简体, 中文繁體, Deutsch, Français, Português and Español
***
• The game offers in-app purchases for some game items. You may be charged with real money when you purchase items and some paid items may not be refundable depending on the type of item.
• For Terms of Service/Refund Policy, visit http://terms.withhive.com/terms/mobile/policy.html or refer to Terms of Service/Refund Policy in the game.
• For questions or customer support, please contact our Customer Support by visiting http://customer-m.withhive.com/ask.
***
Mobile Phone Access Permission Notice
▶ Notice per Access Permission
The app needs permission to access the following to provide game service.
[Required]
- None
[Optional]
- PHONE: The permission is required to proceed with in-game events and rewards and will not affect calls.
- STORAGE: The authority is required to use an external memory storage for additional downloads.

Unduh NBA NOW 21 di PC
1. Unduh dan instal MEmu APP

2. Menjalankan MEmu lalu buka Google Play di halaman

3. Cari NBA NOW 21 di Google Play

4. Unduh dan instal NBA NOW 21

5. Setelah insatl APP selesai,klik ikon untuk mulai

6. Nikmati bermain NBA NOW 21 di PC dengan MEmu
Kenapa Memakai MEmu untuk NBA NOW 21
MEmu App Player adalah emulator Android gratis terbaik dan 50 Juta orang sudah menikmati pengalaman luar biasa dalam bermain gim Android. Teknologi virtualisasi MEmu memberi kekuasaan untuk memainkan ribuan gim Android dengan lancar di PC anda, bahkan gim dengan grafis yang paling tinggi.
Layar lebih besar dengan grafis yang lebih baik; durasi panjang, tanpa batasan baterai atau data seluler.

Didukung penuh oleh Pemetaan tombol yang lengkap untuk keakuratan kontrol keyboard dan mouse maupun gamepad.

Membuka beberapa akun game atau tugas di waktu yang sama hanya pada satu PC, dengan Multi-Instance manager.
Siap bermain?