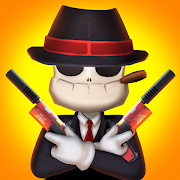 PC'de Shooting Car 3D özellikleri
With all your passion for playing Shooting Car 3D, you hands are not supposed to be limited on a tiny screen of your phone. Play like a pro and get full control of your game with keyboard and mouse. MEmu offers you all the things that you are expecting. Download and play Shooting Car 3D on PC. Play as long as you want, no more limitations of battery, mobile data and disturbing calls. The brand new MEmu 7 is the best choice of playing Shooting Car 3D on PC. Prepared with our expertise, the exquisite preset keymapping system makes Shooting Car 3D a real PC game. Coded with our absorption, the multi-instance manager makes playing 2 or more accounts on the same device possible. And the most important, our exclusive emulation engine can release full potential of your PC, make everything smooth. We care not only how you play, but also the whole process of enjoying the happiness of gaming.
Shooting Car 3D PC'in ekran görüntüleri ve Video
Shooting Car 3D'i MEmu Android Emülatör ile PC'ye indirin. Büyük ekranda oynamanın keyfini çıkarın. Enemies are firing at you!
Oyun bilgisi
Enemies are firing at you! Uncover a gangster car racing game designed to give you an adrenaline rush! Pick up your gun, tap to aim, shoot them with your legendary gun skills! Rob the bank along the runaway adventure and loot cash, valuables as you want! Repel the enemies who come to chase! Upgrade your vehicle and do not let cops catch you! Real racing on a death road to escape will give you an exciting experience!
Drive deadly cars on endless roads and show the world what is call the art of the gunfight!
DOWNLOAD now and hit your rage road with the thrilling Shooting Car 3D!
HOW TO PLAY
- Tap to aim and shoot, lift to hide
- Swipe the screen to switch targets
- Equip yourself with a variety of military weapons to strengthen your fighting ability in fierce battles!
- Level up your vehicles to run faster!
- Defeat waves of enemies with the skills you've learned to prove your prowess!
- Accurately attacking different parts of the enemy can bring unexpected effects!
KEY FEATURES
- Unique gameplay combining race and shooter elements for maximum action and thrills
- Easy to play, cool fighting with deadly super attacks and gun skills!
- 5 special characters to play: you can play a role as Mafia, Prisoner, Rabbit Bunny, Batman, Samurai, etc. Each has an iconic storyline and alive personality, which gives you an authentic role-playing experience!
- The battle is full of joy and randomness. Accurately attacking different parts of the enemy can bring unexpected effects!
- Exciting and thrilling map themes: Desperate Desert, Spaceport, Abandoned Factory, Crime Street, and more to discover!
- Upgrade and customize your armored vehicles: you can design the wheels, body, front and back parts of your car as you want!
- Highly detailed amazing 3D environment of gunbattles
- Huge variety of realistic weapons: guns, rifles, pistols, machine guns, sniper rifles, shotguns, and more! Mad firepower!
- Engaging gameplay with adventurous crime scenes
Shooting Car 3D is a thrilling car racing and battle game, where a lot of amazing car shooting and deadly car battle charisma are waiting for you. If you are looking for a free action game or furious racing game with a crime theme, it is definitely worth a try!

PC'de Shooting Car 3D nasıl indirilir
1. MEmu yükleyicisini indirin ve kurulumu tamamlayın

2. MEmu'yu başlatın ve ana sayfada Google Play'i açın

3. Google Play'de Shooting Car 3D arayın

4. Shooting Car 3D indirin ve yükleyin

5. Kurulum tamamlandığında başlamak için simgeye tıklayın

6. PC'de MEmu ile Shooting Car 3D oyunun keyfini çıkarın
Neden Shooting Car 3D için MEmu kullanın
MEmu App Player, en iyi ücretsiz Android emülatörüdür ve 50 milyon insan zaten mükemmel Android oyun deneyimini yaşamaktadır. MEmu sanallaştırma teknolojisi, binlerce grafik oyunu hatta grafikte en yoğun olanları bile sorunsuz bir şekilde bilgisayarınızda oynamanızı sağlar.
Daha büyük ekranla daha iyi grafiklere sahip; Pil veya mobil veri sınırlaması olmaksızın uzun süre.

Keymapping klavye ve fare veya gamepad'in hassas kontrolü için destek verir.

Multi-Instance yöneticisi ile tek bir bilgisayarda aynı anda birden fazla oyun hesabı veya görev gerçekleşilebilir.
Oynamaya hazır mısınız?