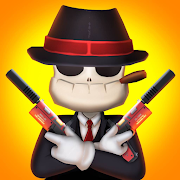 Fitur Shooting Car 3D di PC
Dengan seluruh passion-mu untuk bermain Shooting Car 3D, tidak seharusnya tanganmu terbatasi oleh layar kecil ponselmu. Bermainlah seperti profesional dan dapatkan kontrol penuh gim kesukaanmu dengan keyboard dan mouse. MEmu menawarkan semua hal yang kamu harapkan. Unduh dan mainkan Shooting Car 3D di PC. Mainkan selama apapun yang kamu inginkan, tidak akan ada lagi batasan baterai, data seluler, dan panggilan yang mengganggu. MEmu 7 yang baru adalah pilihan terbaik untuk memainkan Shooting Car 3D di PC. Telah dipersiapkan dengan keahlian yang kami miliki, sistem keymapping mandiri nan indah, menciptakan gim Shooting Car 3D PC yang nyata. Disandi dengan penyerapan kami, membuat multi-instance manager bisa membuatmu memainkan dua atau lebih akun pada perangkat yang sama. Dan yang paling penting, mesin emulasi eksklusif kami dapat melepaskan seluruh potensi PC Anda, sehingga membuat semua berjalan lancar. Kami tidak hanya peduli bagaimana kamu bermain, tetapi juga seluruh proses menikmati kebahagiaan dalam bermain gim.
Tangkapan layar & Vidio Shooting Car 3D PC
Unduh Shooting Car 3D di PC dengan Emulator Android MEmu. Nikmati permainan pada layar yang besar. Enemies are firing at you!
Info gim
Enemies are firing at you! Uncover a gangster car racing game designed to give you an adrenaline rush! Pick up your gun, tap to aim, shoot them with your legendary gun skills! Rob the bank along the runaway adventure and loot cash, valuables as you want! Repel the enemies who come to chase! Upgrade your vehicle and do not let cops catch you! Real racing on a death road to escape will give you an exciting experience!
Drive deadly cars on endless roads and show the world what is call the art of the gunfight!
DOWNLOAD now and hit your rage road with the thrilling Shooting Car 3D!
HOW TO PLAY
- Tap to aim and shoot, lift to hide
- Swipe the screen to switch targets
- Equip yourself with a variety of military weapons to strengthen your fighting ability in fierce battles!
- Level up your vehicles to run faster!
- Defeat waves of enemies with the skills you've learned to prove your prowess!
- Accurately attacking different parts of the enemy can bring unexpected effects!
KEY FEATURES
- Unique gameplay combining race and shooter elements for maximum action and thrills
- Easy to play, cool fighting with deadly super attacks and gun skills!
- 5 special characters to play: you can play a role as Mafia, Prisoner, Rabbit Bunny, Batman, Samurai, etc. Each has an iconic storyline and alive personality, which gives you an authentic role-playing experience!
- The battle is full of joy and randomness. Accurately attacking different parts of the enemy can bring unexpected effects!
- Exciting and thrilling map themes: Desperate Desert, Spaceport, Abandoned Factory, Crime Street, and more to discover!
- Upgrade and customize your armored vehicles: you can design the wheels, body, front and back parts of your car as you want!
- Highly detailed amazing 3D environment of gunbattles
- Huge variety of realistic weapons: guns, rifles, pistols, machine guns, sniper rifles, shotguns, and more! Mad firepower!
- Engaging gameplay with adventurous crime scenes
Shooting Car 3D is a thrilling car racing and battle game, where a lot of amazing car shooting and deadly car battle charisma are waiting for you. If you are looking for a free action game or furious racing game with a crime theme, it is definitely worth a try!

Unduh Shooting Car 3D di PC
1. Unduh dan instal MEmu APP

2. Menjalankan MEmu lalu buka Google Play di halaman

3. Cari Shooting Car 3D di Google Play

4. Unduh dan instal Shooting Car 3D

5. Setelah insatl APP selesai,klik ikon untuk mulai

6. Nikmati bermain Shooting Car 3D di PC dengan MEmu
Kenapa Memakai MEmu untuk Shooting Car 3D
MEmu App Player adalah emulator Android gratis terbaik dan 50 Juta orang sudah menikmati pengalaman luar biasa dalam bermain gim Android. Teknologi virtualisasi MEmu memberi kekuasaan untuk memainkan ribuan gim Android dengan lancar di PC anda, bahkan gim dengan grafis yang paling tinggi.
Layar lebih besar dengan grafis yang lebih baik; durasi panjang, tanpa batasan baterai atau data seluler.

Didukung penuh oleh Pemetaan tombol yang lengkap untuk keakuratan kontrol keyboard dan mouse maupun gamepad.

Membuka beberapa akun game atau tugas di waktu yang sama hanya pada satu PC, dengan Multi-Instance manager.
Siap bermain?