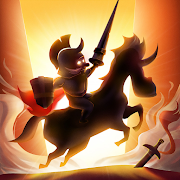 PC'de EZ Knight özellikleri
With all your passion for playing EZ Knight, you hands are not supposed to be limited on a tiny screen of your phone. Play like a pro and get full control of your game with keyboard and mouse. MEmu offers you all the things that you are expecting. Download and play EZ Knight on PC. Play as long as you want, no more limitations of battery, mobile data and disturbing calls. The brand new MEmu 7 is the best choice of playing EZ Knight on PC. Prepared with our expertise, the exquisite preset keymapping system makes EZ Knight a real PC game. Coded with our absorption, the multi-instance manager makes playing 2 or more accounts on the same device possible. And the most important, our exclusive emulation engine can release full potential of your PC, make everything smooth. We care not only how you play, but also the whole process of enjoying the happiness of gaming.
EZ Knight PC'in ekran görüntüleri ve Video
EZ Knight'i MEmu Android Emülatör ile PC'ye indirin. Büyük ekranda oynamanın keyfini çıkarın. New 3D Cartoon Idle RPG EZ KNIGHT is coming now!
Oyun bilgisi
New 3D Cartoon Idle RPG EZ KNIGHT is coming now!
You are a knight entrusted with a special mission, fighting against enemies, slaying dragons on mysterious lands to claim bountiful rewards.
All you need to do is sparing one finger to help your heroes when they're in trouble. You can either fight with your team when you're free or let your team fight for you when you're AFK, while earning loots all the time.
——Idle play, Mind free!
Stress-free auto battle mode and auto upgrades, free your hand, free your mind. Adjust lineup and upgrade skills occasionally, win loots all the time. It's just that easy!
——Turn the Tide with Spectacular Skills!
Dozens of skills and abilities with spectacular effects are ready for you to begin battles, release your powerful skill with just one tap to twist the tide and crush the enemies down!
——Summon Heroes, Create Your Own Team!
Recruit the best of the best among hundreds of heroes of various occupations from 5 camps and build up your own formations to go in to battle, let them slay the enemies and collect countless treasures for you!
——Forge Gears&Equip Heroes, Prepare for the Fight!
Collect and forge legendary gears, equip your knight with upgradable armor and weapons and fight to the end!
——Command Your Heroes, Wipe the Enemies Out!
Deploy heroes of different clans and skills properly, slay enemies effortlessly and challenge world-wide real live players in the PVP Arena!
All suggestions are welcomed! Feel free to tell us through SNS if you have any ideas.
Facebook :https://www.facebook.com/EZ-Knight-112331077753368
Discord:https://discord.gg/r7YQ9hWUep

PC'de EZ Knight nasıl indirilir
1. MEmu yükleyicisini indirin ve kurulumu tamamlayın

2. MEmu'yu başlatın ve ana sayfada Google Play'i açın

3. Google Play'de EZ Knight arayın

4. EZ Knight indirin ve yükleyin

5. Kurulum tamamlandığında başlamak için simgeye tıklayın

6. PC'de MEmu ile EZ Knight oyunun keyfini çıkarın
Neden EZ Knight için MEmu kullanın
MEmu App Player, en iyi ücretsiz Android emülatörüdür ve 50 milyon insan zaten mükemmel Android oyun deneyimini yaşamaktadır. MEmu sanallaştırma teknolojisi, binlerce grafik oyunu hatta grafikte en yoğun olanları bile sorunsuz bir şekilde bilgisayarınızda oynamanızı sağlar.
Daha büyük ekranla daha iyi grafiklere sahip; Pil veya mobil veri sınırlaması olmaksızın uzun süre.

Keymapping klavye ve fare veya gamepad'in hassas kontrolü için destek verir.

Multi-Instance yöneticisi ile tek bir bilgisayarda aynı anda birden fazla oyun hesabı veya görev gerçekleşilebilir.
Oynamaya hazır mısınız?