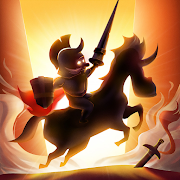 Fitur EZ Knight di PC
Dengan seluruh passion-mu untuk bermain EZ Knight, tidak seharusnya tanganmu terbatasi oleh layar kecil ponselmu. Bermainlah seperti profesional dan dapatkan kontrol penuh gim kesukaanmu dengan keyboard dan mouse. MEmu menawarkan semua hal yang kamu harapkan. Unduh dan mainkan EZ Knight di PC. Mainkan selama apapun yang kamu inginkan, tidak akan ada lagi batasan baterai, data seluler, dan panggilan yang mengganggu. MEmu 8 yang baru adalah pilihan terbaik untuk memainkan EZ Knight di PC. Telah dipersiapkan dengan keahlian yang kami miliki, sistem keymapping mandiri nan indah, menciptakan gim EZ Knight PC yang nyata. Disandi dengan penyerapan kami, membuat multi-instance manager bisa membuatmu memainkan dua atau lebih akun pada perangkat yang sama. Dan yang paling penting, mesin emulasi eksklusif kami dapat melepaskan seluruh potensi PC Anda, sehingga membuat semua berjalan lancar. Kami tidak hanya peduli bagaimana kamu bermain, tetapi juga seluruh proses menikmati kebahagiaan dalam bermain gim.
Tangkapan layar & Vidio EZ Knight PC
Unduh EZ Knight di PC dengan Emulator Android MEmu. Nikmati permainan pada layar yang besar. New 3D Cartoon Idle RPG EZ KNIGHT is coming now!
Info gim
New 3D Cartoon Idle RPG EZ KNIGHT is coming now!
You are a knight entrusted with a special mission, fighting against enemies, slaying dragons on mysterious lands to claim bountiful rewards.
All you need to do is sparing one finger to help your heroes when they're in trouble. You can either fight with your team when you're free or let your team fight for you when you're AFK, while earning loots all the time.
——Idle play, Mind free!
Stress-free auto battle mode and auto upgrades, free your hand, free your mind. Adjust lineup and upgrade skills occasionally, win loots all the time. It's just that easy!
——Turn the Tide with Spectacular Skills!
Dozens of skills and abilities with spectacular effects are ready for you to begin battles, release your powerful skill with just one tap to twist the tide and crush the enemies down!
——Summon Heroes, Create Your Own Team!
Recruit the best of the best among hundreds of heroes of various occupations from 5 camps and build up your own formations to go in to battle, let them slay the enemies and collect countless treasures for you!
——Forge Gears&Equip Heroes, Prepare for the Fight!
Collect and forge legendary gears, equip your knight with upgradable armor and weapons and fight to the end!
——Command Your Heroes, Wipe the Enemies Out!
Deploy heroes of different clans and skills properly, slay enemies effortlessly and challenge world-wide real live players in the PVP Arena!
All suggestions are welcomed! Feel free to tell us through SNS if you have any ideas.
Facebook :https://www.facebook.com/EZ-Knight-112331077753368
Discord:https://discord.gg/r7YQ9hWUep

Unduh EZ Knight di PC
1. Unduh dan instal MEmu APP

2. Menjalankan MEmu lalu buka Google Play di halaman

3. Cari EZ Knight di Google Play

4. Unduh dan instal EZ Knight

5. Setelah insatl APP selesai,klik ikon untuk mulai

6. Nikmati bermain EZ Knight di PC dengan MEmu
Kenapa Memakai MEmu untuk EZ Knight
MEmu App Player adalah emulator Android gratis terbaik dan 50 Juta orang sudah menikmati pengalaman luar biasa dalam bermain gim Android. Teknologi virtualisasi MEmu memberi kekuasaan untuk memainkan ribuan gim Android dengan lancar di PC anda, bahkan gim dengan grafis yang paling tinggi.
Layar lebih besar dengan grafis yang lebih baik; durasi panjang, tanpa batasan baterai atau data seluler.

Didukung penuh oleh Pemetaan tombol yang lengkap untuk keakuratan kontrol keyboard dan mouse maupun gamepad.

Membuka beberapa akun game atau tugas di waktu yang sama hanya pada satu PC, dengan Multi-Instance manager.
Siap bermain?