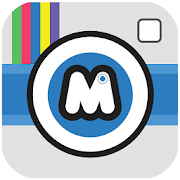 Features of Mega Photo on PC
Přestaňte se obávat přebíjení při používání Mega Photo na mobilním telefonu, uvolněte se z malé obrazovky a užívejte si aplikace na mnohem větším displeji. "Společnost MEmu vám nabízí všechny překvapivé funkce, které jste očekávali: rychlá instalace a snadné nastavení, intuitivní ovládání, žádná omezení baterií, mobilní data a rušivá volání. Zcela nový přístroj MEmu 7 je nejlepší volbou použití Mega Photo ve vašem počítači. díky naší absorpci umožňuje správce více instancí otevření 2 nebo více účtů současně. A co je nejdůležitější, náš exkluzivní emulační modul může uvolnit plný potenciál vašeho počítače, učinit vše plynulým a příjemným.
Screenshots & Video of Mega Photo PC
Vychutnejte si vynikající zážitek z přehrávání Mega Photo na PC s MEMU App Player. Je to silný bezplatný emulátor pro Android, který vám umožní hrát tisíce her v systému Android. Mega Photo is the #1 app for transforming your photos and videos into fun and inspiring masterpieces with 100+ of FREE effects!
Game Info
Mega Photo is the #1 app for transforming your photos and videos into fun and inspiring masterpieces with 100+ of FREE effects!
Twist, morph, pinch, and warp your photos into outrageous designs! You can even spin your images in 3-D. There are over 100 free effects to choose from and you see them all in real-time. You can take videos with the effects too! You can pause the recording to switch effects in the middle of your video. Make a music video by selecting a soundtrack from your music library!
Effects include: tunnel, mosaic, puzzle, hue shift, motion blur, tile, emboss, spinning cube, x-ray, collage, night vision, halftone, light tunnel, and many more. There's also 40 vintage camera effects for a retro feel.
Mega Photo will transform your photos and videos with amazing effects you won't find in other photography apps. It's the most fun you can have with your photos!
** TRANSFORM YOUR PHOTOS IN AMAZING WAYS **
Mega Photo makes your photos and videos as unique as you are. Over 100 free effects are shown to you in real-time. You can play a tile puzzle with a live camera feed, go through a wormhole tunnel, view a spinning globe, and much more!
The app can switch from the front to rear facing camera with the touch of a button. You can use the live camera or a still image - just choose a favorite picture from your library or take a new picture.
Many of the photo effects are interactive so you can personalize it even before taking your picture or video. Tap and drag, zoom with two fingers, rotate, and more to make it your own.
** SHARE THE FUN WITH FRIENDS **
Photos are more fun with your friends, and Mega Photo makes it easy. Share your zany and funny photos (like you as the Mona Lisa!) easily. Just tap to email your photo or post to Facebook or Twitter.
Are your friends nearby? Snap a photo with all of you using the helpful timer. Set the timer for up to 30 seconds so all your buddies can get in the picture. Don't forget to choose your favorite photo transformation to amaze your friends.
** APP FEATURES **
• Transform Your Photos - Distort, pinch, and change colors of your photos and videos
• 100+ Free Effects - Apply eye-popping effects to your images with just a tap of your finger
• Interactive Adjustable Filters - View and change your photo effects in real-time
• Share with Friends - Easily post your photos to Facebook or Twitter, and email to friends and family.
• Use Existing Photos - Snap a new photo or use your existing pics on your camera roll.
• Play Games - Take your photos and play classic arcade games with your photos.
• Take Video - Mega Photo can be used for video too with effects that would make Michael Bay jealous.
• Add Music to Videos - Add music to your videos and become the next Justin Bieber with Mega Photo... or not.

How to Download Mega Photo on PC
1. Download MEmu installer and finish the setup

2. Start MEmu then open Google Play on the desktop

3. Search Mega Photo in Google Play

4. Download and Install Mega Photo

5. On install completion click the icon to start

6. Enjoy playing Mega Photo on PC with MEmu
Why Use MEmu for Mega Photo
MEmu je zdarma a ten nejlepší Android emulátor. 50 milionů lidí si užívá jeho nejlepší herní zážitky. Technologie virtualizace MEmu ti dovolí plynule hrát Android hry na PC a to i ty nejnáročnější.
Bigger screen with better graphics; Long duration, without limitation of battery or mobile data.

Full Keymapping support for precise control of keyboard and mouse or gamepad.

Multiple game accounts or tasks on single PC at one time with Multi-Instance manager.
Ready to Play?