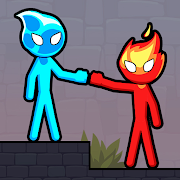 OneSoft Global PTE. LTD.
Caractéristiques de Stickman Red And Blue sur PC
With all your passion for playing Stickman Red And Blue, you hands are not supposed to be limited on a tiny screen of your phone. Play like a pro and get full control of your game with keyboard and mouse. MEmu offers you all the things that you are expecting. Download and play Stickman Red And Blue on PC. Play as long as you want, no more limitations of battery, mobile data and disturbing calls. The brand new MEmu 7 is the best choice of playing Stickman Red And Blue on PC. Prepared with our expertise, the exquisite preset keymapping system makes Stickman Red And Blue a real PC game. Coded with our absorption, the multi-instance manager makes playing 2 or more accounts on the same device possible. And the most important, our exclusive emulation engine can release full potential of your PC, make everything smooth. We care not only how you play, but also the whole process of enjoying the happiness of gaming.
Captures d'écran et Vidéo de Stickman Red And Blue PC
Téléchargez Stickman Red And Blue avec le simulateur d'Android MEmu sur votre PC. Profitez de jouer sur un grand écran. Stickman Red And Blue is an addictive puzzle game where you have to embody both characters.
Informations sur le jeu
Stickman Red And Blue is an addictive puzzle game where you have to embody both characters. Control both stickmen at the same time and use the buttons to move, push boxes, and collect coins to find the exit in the jungle.
On a beautiful day, Red Stickman and Blue Stickman went out together in the forest, they accidentally got lost in the maze. There are many pitfalls here and they must be overcome before they can go home. Two stickmen have to solve many tasks of the maze puzzle. Join them on an adventure, escape the forest and return home safely.
In this cool collaboration game, Fire Red Stickman can handle incredible blazes while his companion, Water Blue Stickman can keep things cool with her marvelous sea-going capacities. Red Stickman can slide across cold surfaces yet this hot kid going to struggle to scale any inclines that have snow on them. Red Stickman will slide directly off. In the interim, Blue Stickman gets eased back down at whatever point her feet contact level regions canvassed in snow and ice. Frigid inclines are no issue for this cool young lady, however. Blue Stickman can impact straight up to them! So this unique couple is going to indeed have to collaborate while Red Stickman And Blue Stickman bounce across the entirety of the sanctuary's foundation and race towards each leave entryway. It's the lone route for Red Stickman and Blue Stickman to endure every one of the levels and gather huge loads of valuable, shading-coded gems en route. Red And Blue Stickman will undoubtedly experience bunches of traps and astounds, as well, and that is the place where you come in. Red And Blue Stickman will require your assistance while they attempt to sort out some way to ignore lakes by freezing them with lasers or get around pools loaded up with foaming liquid magma. These two saints Red And Blue Stickman love a decent experience and they're trusting that you do also.
Features:
• We will update new exciting challenges every week, helping you to experience different challenges, not get bored.
• Awesome animation and sound effects.
• Easy but addictive teamwork gameplay.
• Nice characters and design.
• Smooth control.
• Download the game completely for free.
How to play:
• Move Red Stickman and Blue Stickman by arrows and avoid obstacles. Red Stickman must avoid water while Blue Stickman must avoid fire.
• Just touch the button "Swap" to change from Blue Stickman to Red Stickman and vice versa
• Collect gems as much as possible.
Do not hesitate to download and play Red And Blue Stickman - today's most popular puzzle game to participate in conquering exciting challenges. Have fun and get through quickly each challenging level in Red And Blue Stickman.

Comment télécharger Stickman Red And Blue sur PC
1. Téléchargez l'installateur MEmu et terminez l'installation

2. Démarrez MEmu puis ouvrez Google Play sur la page d'accueil

3. Recherchez Stickman Red And Blue dans Google Play

4. Téléchargez et installez Stickman Red And Blue

5. Une fois l'installation terminée, cliquez sur l'icône pour démarrer

6. Profitez de jouer Stickman Red And Blue sur PC avec MEmu
Pourquoi utiliser MEmu pour Stickman Red And Blue
Le lecteur d'application MEmu est le meilleur émulateur Android gratuit, et 50 millions de personnes profitent déjà de sa fantastique expérience de jeu Android. La technologie de virtualisation MEmu vous donne la possibilité de jouer à des milliers de jeux Android sur votre PC sans aucune difficulté, même aux plus gourmands.
L'écran plus grand avec de meilleurs graphismes; Une longue durée, sans limitation de batterie ou de données mobiles.

Soutien du Keymapping pour un contrôle précis du clavier et de la souris ou de la manette de jeu

Plusieurs comptes de jeu ou tâches sur un seul PC en même temps avec le gestionnaire de multi-instance.
Prêt à jouer?