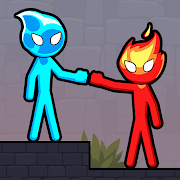 OneSoft Global PTE. LTD.
Características do Stickman Red And Blue no PC
Com toda a sua paixão por jogar Stickman Red And Blue, não deixe os polegares te atrapalharem em uma pequena tela do seu celular. Jogue como um profissional e tenha controle total do seu jogo com teclado e mouse. O MEmu oferece todas as coisas que você está esperando. Baixe e jogue Stickman Red And Blue no PC. Jogue o tempo que quiser, sem mais limitações de bateria, dados móveis e aquelas ligações enquanto estiver jogando. O novíssimo MEmu 7 é a melhor escolha de jogar Stickman Red And Blue no PC. Com grandes novidades no sistema de mapeamento que faz Stickman Red And Blue um jogo de PC real. Nossa equipe melhorou o gerenciamento de várias instâncias do Android, reduzindo tempo de reprodução de 2 ou mais contas no mesmo dispositivo. O mais importante, nosso mecanimos de emulação exclusivo pode liberar todo o potencial do seu PC sem travamentos, rodando tudo liso. Nós nos preocupamos não apenas com você joga, mas com todo o processo de desfrutar de 100% do seu jogo favorito.
Capturas de tela & vídeo do Stickman Red And Blue no PC
Download do Stickman Red And Blue no PC com MEmu Android Emulador: Divirta-se jogando na tela grande. Stickman Red And Blue is an addictive puzzle game where you have to embody both characters.
Informações do Jogo
Stickman Red And Blue is an addictive puzzle game where you have to embody both characters. Control both stickmen at the same time and use the buttons to move, push boxes, and collect coins to find the exit in the jungle.
On a beautiful day, Red Stickman and Blue Stickman went out together in the forest, they accidentally got lost in the maze. There are many pitfalls here and they must be overcome before they can go home. Two stickmen have to solve many tasks of the maze puzzle. Join them on an adventure, escape the forest and return home safely.
In this cool collaboration game, Fire Red Stickman can handle incredible blazes while his companion, Water Blue Stickman can keep things cool with her marvelous sea-going capacities. Red Stickman can slide across cold surfaces yet this hot kid going to struggle to scale any inclines that have snow on them. Red Stickman will slide directly off. In the interim, Blue Stickman gets eased back down at whatever point her feet contact level regions canvassed in snow and ice. Frigid inclines are no issue for this cool young lady, however. Blue Stickman can impact straight up to them! So this unique couple is going to indeed have to collaborate while Red Stickman And Blue Stickman bounce across the entirety of the sanctuary's foundation and race towards each leave entryway. It's the lone route for Red Stickman and Blue Stickman to endure every one of the levels and gather huge loads of valuable, shading-coded gems en route. Red And Blue Stickman will undoubtedly experience bunches of traps and astounds, as well, and that is the place where you come in. Red And Blue Stickman will require your assistance while they attempt to sort out some way to ignore lakes by freezing them with lasers or get around pools loaded up with foaming liquid magma. These two saints Red And Blue Stickman love a decent experience and they're trusting that you do also.
Features:
• We will update new exciting challenges every week, helping you to experience different challenges, not get bored.
• Awesome animation and sound effects.
• Easy but addictive teamwork gameplay.
• Nice characters and design.
• Smooth control.
• Download the game completely for free.
How to play:
• Move Red Stickman and Blue Stickman by arrows and avoid obstacles. Red Stickman must avoid water while Blue Stickman must avoid fire.
• Just touch the button "Swap" to change from Blue Stickman to Red Stickman and vice versa
• Collect gems as much as possible.
Do not hesitate to download and play Red And Blue Stickman - today's most popular puzzle game to participate in conquering exciting challenges. Have fun and get through quickly each challenging level in Red And Blue Stickman.

Como Baixar Stickman Red And Blue no PC
1. Faça o download do instalador do MEmu e conclua a instalação

2. Inicie o MEmu e depois abra o Google Play na página inicial

3. Pesquise Stickman Red And Blue no Google Play

4. Baixe e Instale Stickman Red And Blue

5. Na conclusão da instalação, clique no ícone para iniciar

6. Divirta-se jogando Stickman Red And Blue no PC com MEmu
Por que usar MEmu para Stickman Red And Blue
O MEmu App Player é o melhor emulador de Android grátis e 50 milhões de pessoas já desfrutam de sua excelente experiência de jogos no Android. A tecnologia de virtualização do MEmu permite que você jogue milhares de jogos do Android sem problemas no seu PC, mesmo os com gráficos mais intensivos.
Tela maior com gráficos melhores; Longa duração e sem limitação de bateria ou dados móveis.

Suporte completo ao Mapaeamento de Teclas para controle preciso do teclado e mouse ou gamepad.

Várias contas de jogos ou tarefas em um único PC de uma só vez com o Gerenciador de várias instâncias.
Pronto para jogar?