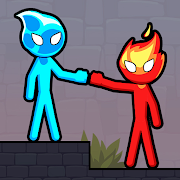 OneSoft Global PTE. LTD.
Fitur Stickman Red And Blue di PC
Dengan seluruh passion-mu untuk bermain Stickman Red And Blue, tidak seharusnya tanganmu terbatasi oleh layar kecil ponselmu. Bermainlah seperti profesional dan dapatkan kontrol penuh gim kesukaanmu dengan keyboard dan mouse. MEmu menawarkan semua hal yang kamu harapkan. Unduh dan mainkan Stickman Red And Blue di PC. Mainkan selama apapun yang kamu inginkan, tidak akan ada lagi batasan baterai, data seluler, dan panggilan yang mengganggu. MEmu 7 yang baru adalah pilihan terbaik untuk memainkan Stickman Red And Blue di PC. Telah dipersiapkan dengan keahlian yang kami miliki, sistem keymapping mandiri nan indah, menciptakan gim Stickman Red And Blue PC yang nyata. Disandi dengan penyerapan kami, membuat multi-instance manager bisa membuatmu memainkan dua atau lebih akun pada perangkat yang sama. Dan yang paling penting, mesin emulasi eksklusif kami dapat melepaskan seluruh potensi PC Anda, sehingga membuat semua berjalan lancar. Kami tidak hanya peduli bagaimana kamu bermain, tetapi juga seluruh proses menikmati kebahagiaan dalam bermain gim.
Tangkapan layar & Vidio Stickman Red And Blue PC
Unduh Stickman Red And Blue di PC dengan Emulator Android MEmu. Nikmati permainan pada layar yang besar. Stickman Red And Blue is an addictive puzzle game where you have to embody both characters.
Info gim
Stickman Red And Blue is an addictive puzzle game where you have to embody both characters. Control both stickmen at the same time and use the buttons to move, push boxes, and collect coins to find the exit in the jungle.
On a beautiful day, Red Stickman and Blue Stickman went out together in the forest, they accidentally got lost in the maze. There are many pitfalls here and they must be overcome before they can go home. Two stickmen have to solve many tasks of the maze puzzle. Join them on an adventure, escape the forest and return home safely.
In this cool collaboration game, Fire Red Stickman can handle incredible blazes while his companion, Water Blue Stickman can keep things cool with her marvelous sea-going capacities. Red Stickman can slide across cold surfaces yet this hot kid going to struggle to scale any inclines that have snow on them. Red Stickman will slide directly off. In the interim, Blue Stickman gets eased back down at whatever point her feet contact level regions canvassed in snow and ice. Frigid inclines are no issue for this cool young lady, however. Blue Stickman can impact straight up to them! So this unique couple is going to indeed have to collaborate while Red Stickman And Blue Stickman bounce across the entirety of the sanctuary's foundation and race towards each leave entryway. It's the lone route for Red Stickman and Blue Stickman to endure every one of the levels and gather huge loads of valuable, shading-coded gems en route. Red And Blue Stickman will undoubtedly experience bunches of traps and astounds, as well, and that is the place where you come in. Red And Blue Stickman will require your assistance while they attempt to sort out some way to ignore lakes by freezing them with lasers or get around pools loaded up with foaming liquid magma. These two saints Red And Blue Stickman love a decent experience and they're trusting that you do also.
Features:
• We will update new exciting challenges every week, helping you to experience different challenges, not get bored.
• Awesome animation and sound effects.
• Easy but addictive teamwork gameplay.
• Nice characters and design.
• Smooth control.
• Download the game completely for free.
How to play:
• Move Red Stickman and Blue Stickman by arrows and avoid obstacles. Red Stickman must avoid water while Blue Stickman must avoid fire.
• Just touch the button "Swap" to change from Blue Stickman to Red Stickman and vice versa
• Collect gems as much as possible.
Do not hesitate to download and play Red And Blue Stickman - today's most popular puzzle game to participate in conquering exciting challenges. Have fun and get through quickly each challenging level in Red And Blue Stickman.

Unduh Stickman Red And Blue di PC
1. Unduh dan instal MEmu APP

2. Menjalankan MEmu lalu buka Google Play di halaman

3. Cari Stickman Red And Blue di Google Play

4. Unduh dan instal Stickman Red And Blue

5. Setelah insatl APP selesai,klik ikon untuk mulai

6. Nikmati bermain Stickman Red And Blue di PC dengan MEmu
Kenapa Memakai MEmu untuk Stickman Red And Blue
MEmu App Player adalah emulator Android gratis terbaik dan 50 Juta orang sudah menikmati pengalaman luar biasa dalam bermain gim Android. Teknologi virtualisasi MEmu memberi kekuasaan untuk memainkan ribuan gim Android dengan lancar di PC anda, bahkan gim dengan grafis yang paling tinggi.
Layar lebih besar dengan grafis yang lebih baik; durasi panjang, tanpa batasan baterai atau data seluler.

Didukung penuh oleh Pemetaan tombol yang lengkap untuk keakuratan kontrol keyboard dan mouse maupun gamepad.

Membuka beberapa akun game atau tugas di waktu yang sama hanya pada satu PC, dengan Multi-Instance manager.
Siap bermain?