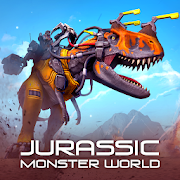 Azur Interactive Games Limited
Features of FULL METAL MONSTERS on PC
With all your passion for playing FULL METAL MONSTERS, you hands are not supposed to be limited on a tiny screen of your phone. Play like a pro and get full control of your game with keyboard and mouse. MEmu offers you all the things that you are expecting. Download and play FULL METAL MONSTERS on PC. Play as long as you want, no more limitations of battery, mobile data and disturbing calls. The brand new MEmu 7 is the best choice of playing FULL METAL MONSTERS on PC. Prepared with our expertise, the exquisite preset keymapping system makes FULL METAL MONSTERS a real PC game. Coded with our absorption, the multi-instance manager makes playing 2 or more accounts on the same device possible. And the most important, our exclusive emulation engine can release full potential of your PC, make everything smooth. We care not only how you play, but also the whole process of enjoying the happiness of gaming.
Screenshots & Video of FULL METAL MONSTERS PC
Απολαύστε την υπέροχη εμπειρία αναπαραγωγής του FULL METAL MONSTERS σε υπολογιστή με το MEMU App Player. Πρόκειται για έναν ισχυρό δωρεάν εξομοιωτή Android που σας επιτρέπει να παίζετε χιλιάδες παιχνίδια Android. The game is still under active development.
Game Info
The game is still under active development. We carefully read all your comments and feedback to make sure every new update counts. Thanks for your support!
Jurassic Monster World: Dinosaur War 3D FPS is a mobile game like you've never seen before. Battle metal-plated monster dinos in a post-apocalyptic world! A synchronized 5x5 PvP free-to-play action shooter with different modes! Control beasts on land or in the sky, fully mechanized, augmented or organic: the choice is yours!
Tame and command dozens of blood-thirsty metal hunters ready to destroy anything in their paths to win!
Gameplay:
Unique setting!
A harsh new world where only the strongest survive!
Game mechanics variety
Chew through enemies in melee attacks or strike from a distance, sabotage on the sly or hurl headlong into battle!
Tons of different creatures
Metal, organic or augmented: take your pick!
Land and air battles
Sky battle fans rejoice! We've got flying dinos and more. Pick your battleground!
A wealth of weapons
Equip your dino with any weapon you want, from traditional guns to next-gen energy blasters!
The game has 3 main dino types, including:
1. Full Metal – AI machines devoid of any biological tissue and mercy. Specially equipped with an energy shield against weapons from the old world.
Tyrannosaurus is at the top of the metal jungle food chain. He can jump from place to place with super speed and stun several enemies at once. Deadly in melee battles. One false move and the enemy is toast.
2. Organic – Life is evolving in round 2 upon the ruins of the destroyed old world. Now monsters from the Jurassic Era are out to kill, not to live.
Spinosaurus is an insatiable hunter killer. Dino butchers preying on lesser animals, spinosauri can hold their own in melee battle and against enemies with superior strength. Their jumps give them unmatched mobility, and their mighty roar can stun a whole group of enemies, leaving them open to deadly attacks.
3. Augmented – On the border of human and machine, they are the best of both worlds. Human intellect mixed with advanced tech form a deadly combination.
Triceratops – You don't want to get in his way when he's charging. Triceratops are always on the hunt for their next victim. Their razor sharp horns are tough to dodge in melee battle, and these beasts can even restore their own health if they need to.
Jurassic Monster World: Dinosaur War 3D FPS is free to download and play, but some in-game elements are available for purchase. The game requires a stable internet connection. Mobile internet will do, but Wi-Fi is best.
Join our community:
https://www.facebook.com/jurassicmonsterworld

How to Download FULL METAL MONSTERS on PC
1. Download MEmu installer and finish the setup

2. Start MEmu then open Google Play on the desktop

3. Search FULL METAL MONSTERS in Google Play

4. Download and Install FULL METAL MONSTERS

5. On install completion click the icon to start

6. Enjoy playing FULL METAL MONSTERS on PC with MEmu
Why Use MEmu for FULL METAL MONSTERS
Το MEmu App Player, αποτελεί την ιδανικότερη δωρεάν λύση για την εξομοίωση του λειτουργικού Android, και χρησιμοποιείται ήδη από περισσότερους από 50 εκατομμύρια χρήστες, ο οποίοι απολαμβάνουν, την καταπληκτική εμπειρία παιχνιδιού που προσφέρεται μέσω της εφαρμογής. Με τη χρήση του MEmu Virtualization, είναι δυνατή η αναπαραγωγή παιχνιδιών Android στον υπολογιστή, ακόμη και εκείνων που απαιτούν μεγάλη επεξεργαστική ισχύ γραφικών, δίχως συμβιβασμούς στην ποιότητα και στην εμπειρία χρήσης, ακριβώς όπως ένα τελευταίας γενιάς κινητό τηλέφωνο.
Bigger screen with better graphics; Long duration, without limitation of battery or mobile data.

Full Keymapping support for precise control of keyboard and mouse or gamepad.

Multiple game accounts or tasks on single PC at one time with Multi-Instance manager.
Ready to Play?