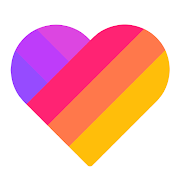 Likee - Formerly LIKE Video
Features of Likee - Formerly LIKE Video on PC
Přestaňte se obávat přebíjení při používání Likee - Formerly LIKE Video na mobilním telefonu, uvolněte se z malé obrazovky a užívejte si aplikace na mnohem větším displeji. "Společnost MEmu vám nabízí všechny překvapivé funkce, které jste očekávali: rychlá instalace a snadné nastavení, intuitivní ovládání, žádná omezení baterií, mobilní data a rušivá volání. Zcela nový přístroj MEmu 8 je nejlepší volbou použití Likee - Formerly LIKE Video ve vašem počítači. díky naší absorpci umožňuje správce více instancí otevření 2 nebo více účtů současně. A co je nejdůležitější, náš exkluzivní emulační modul může uvolnit plný potenciál vašeho počítače, učinit vše plynulým a příjemným.
Screenshots & Video of Likee - Formerly LIKE Video PC
Vychutnejte si vynikající zážitek z přehrávání Likee - Formerly LIKE Video na PC s MEMU App Player. Je to silný bezplatný emulátor pro Android, který vám umožní hrát tisíce her v systému Android. Likee is a free original short video editor and sharing platform worldwide with excellent live streams.
Game Info
Likee is a free original short video editor and sharing platform worldwide with excellent live streams. Likee brings short videos, video effects and live stream into one easy-to-use application. With the powerful personalized feed and video effects, you can easily find viral videos, capture flawless videos, watch and go live stream. It's time to express yourself, show your talents in live broadcasts, explore and connect with the content you love on Likee.
We have over 100 million users all around the world. More and more people choose Likee for fun, self-expression and friends making. Download and join Likee to discover a bigger world!
Why Likee?
A Popular Special Effects Short Video Maker and Editor
Various video effects, face filters and editing tools on Likee to help you make cool videos with little efforts.

- SuperMix: enhance videos with cool special effects like Face Morph, Astral Travel, Face Cut and MV and more! A photo is all you need to make professional and fantastic videos.
- FaceMagic: Swap face with celebrities or movie roles with face recognition technology. Super fun and rich video templates including classic movies, stage show, talk show, funny clips are available!
- Stickers & Music Magic: Customize your videos with various funny stickers, greetings, quotes, colorful hairs and cute emoji.
- Beauty Camera &Video Filter: Change video backgrounds with video filters. Unlock bunch of video effects like sketch, glitch, vintage, montage and much more! Try different makeups styles in seconds with beauty camera!
A Global Live Stream and Friends Making Community
Millions of talented bloggers, vloggers and video creators like you have already joined Likee! Follow the creators you like, let's chat and make friends.
• Go Live, Receive Gifts and Gain Fans
Go Live on Likee to express yourself to the world. Live stream your life and engage with your audience. Show your talents, boost your fan base and receive gifts. You might just be Likee's next Internet Sensation!
• Watch Live Stream Anytime and Anywhere
Discover countless talented hosts from around the world. Watch Live stream, chat with hosts, and support your favorite hosts by sending gifts. Special features such as LIVE PK, fan club and tournament of Likee Live await you!
Viral Videos and Creative Contents all around the World
Choose from a great variety of videos, including music, dance, makeup, drawing, DIY, news, movies and everything in between! Powered by the personalized feed based on what you watch, like and share, Likee will offer more of those you like and less of those you don't.
On Likee, you can quickly grow your knowledge, get life hacks, laugh with other Likers and keep up with the trend!
All Likers are real, creative and full of passion just like you. Watch and edit editors & go live in likee. Now Join Likee community and explore more than you like.
Connect us
Instagram : likee_official_global
facebook : @likeeappofficial

How to Download Likee - Formerly LIKE Video on PC
1. Download MEmu installer and finish the setup

2. Start MEmu then open Google Play on the desktop

3. Search Likee - Formerly LIKE Video in Google Play

4. Download and Install Likee - Formerly LIKE Video

5. On install completion click the icon to start

6. Enjoy playing Likee - Formerly LIKE Video on PC with MEmu
Why Use MEmu for Likee - Formerly LIKE Video
MEmu je zdarma a ten nejlepší Android emulátor. 50 milionů lidí si užívá jeho nejlepší herní zážitky. Technologie virtualizace MEmu ti dovolí plynule hrát Android hry na PC a to i ty nejnáročnější.
Bigger screen with better graphics; Long duration, without limitation of battery or mobile data.

Full Keymapping support for precise control of keyboard and mouse or gamepad.

Multiple game accounts or tasks on single PC at one time with Multi-Instance manager.
Ready to Play?