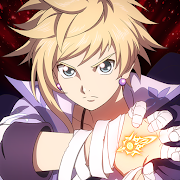 BANDAI NAMCO Entertainment Inc.
Características do TALES OF CRESTORIA no PC
Com toda a sua paixão por jogar TALES OF CRESTORIA, não deixe os polegares te atrapalharem em uma pequena tela do seu celular. Jogue como um profissional e tenha controle total do seu jogo com teclado e mouse. O MEmu oferece todas as coisas que você está esperando. Baixe e jogue TALES OF CRESTORIA no PC. Jogue o tempo que quiser, sem mais limitações de bateria, dados móveis e aquelas ligações enquanto estiver jogando. O novíssimo MEmu 7 é a melhor escolha de jogar TALES OF CRESTORIA no PC. Com grandes novidades no sistema de mapeamento que faz TALES OF CRESTORIA um jogo de PC real. Nossa equipe melhorou o gerenciamento de várias instâncias do Android, reduzindo tempo de reprodução de 2 ou mais contas no mesmo dispositivo. O mais importante, nosso mecanimos de emulação exclusivo pode liberar todo o potencial do seu PC sem travamentos, rodando tudo liso. Nós nos preocupamos não apenas com você joga, mas com todo o processo de desfrutar de 100% do seu jogo favorito.
Capturas de tela & vídeo do TALES OF CRESTORIA no PC
Download do TALES OF CRESTORIA no PC com MEmu Android Emulador: Divirta-se jogando na tela grande. Live.
Informações do Jogo
Live. Even if it's a sin.
TALES OF CRESTORIA is a brand-new Tales adventure for mobile! Step into this epic anime RPG game set in an original Tales series world, featuring a dramatic storyline and brand new characters! Experience this anime/manga adventure as Kanata and his allies fight to survive through the fantasy world of Crestoria while bearing the weight of their past sins.
TALES OF CRESTORIA blends classic turn-based JRPG gameplay with an original and unforgettable Tales story of morality. Seen as "Transgressors" by fellow citizens for committing crimes to protect each other, Kanata and Misella set off on an epic role-playing adventure to find respite from a world that wants them erased.
Battle enemy pursuers and monsters in the fantasy world of Crestoria through simple yet intense turn-based anime RPG battle action! Combine Kanata and his allies with legendary characters from previous Tales series to form the ultimate team and help you in this anime role-playing quest!
AN ORIGINAL TALES ANIME RPG STORY
• Experience this epic new Tales anime RPG saga
• Help Kanata and his fellow Transgressors survive the world of Crestoria
• Voice acting from an All-Star Voice Cast help bring this Tales story to life
CLASSIC ANIME RPG TURN-BASED BATTLES
• Intuitive turn-based RPG controls
• Link epic Mystic Arts to perform massive combo attacks
• Strengthen and upgrade your characters' skills
TALES CHARACTERS FOR A NEW AGE
• Add newcomers Kanata, Misella, Vicious, and more to the list of memorable Tales characters
• Unlock character episodes through battle to learn about them outside of the main anime RPG story
• Follow characters' Face Chat conversations that provide short & fun insights on character thoughts
NEW MEETS CLASSIC
• Create the ultimate Tales dream team with popular characters throughout the Tales series
• Fan favorites such as Cress, Velvet, Luke, and many more are available
• Play Side Story missions with previous Tales characters in the Crestoria world!
IMMERSIVE WORLD OF CRESTORIA
• Featuring anime character designs from top artists from previous Tales series
• Stunning anime 3D visuals bring the colorful fantasy world of Crestoria to life
• Smooth character animations add to the epic turn-based anime RPG action
TALES OF CRESTORIA is sure to delight longtime fans of the Tales series and anime/manga games in general. Are you ready to make the choice to do what is right? Download TALES OF CRESTORIA today!
SUPPORT:
https://bnfaq.channel.or.jp/title/1950
BANDAI NAMCO Entertainment Inc. Website:
https://bandainamcoent.co.jp/english/
By downloading or installing this app, you agree to the BANDAI NAMCO Entertainment
Terms of Service.
Terms of Service:
https://legal.bandainamcoent.co.jp/terms/
Privacy Policy:
https://legal.bandainamcoent.co.jp/privacy/
Note:
This game contains some items available for in-app purchase that can enhance
gameplay and speed up your progress. In-app purchases can be disabled in your device
settings, see https://support.google.com/googleplay/answer/1626831?hl=en for more
details.
©MUTSUMI INOMATA ©KOSUKE FUJISHIMA ©BANDAI NAMCO Entertainment Inc.

Como Baixar TALES OF CRESTORIA no PC
1. Faça o download do instalador do MEmu e conclua a instalação

2. Inicie o MEmu e depois abra o Google Play na página inicial

3. Pesquise TALES OF CRESTORIA no Google Play

4. Baixe e Instale TALES OF CRESTORIA

5. Na conclusão da instalação, clique no ícone para iniciar

6. Divirta-se jogando TALES OF CRESTORIA no PC com MEmu
Por que usar MEmu para TALES OF CRESTORIA
O MEmu App Player é o melhor emulador de Android grátis e 50 milhões de pessoas já desfrutam de sua excelente experiência de jogos no Android. A tecnologia de virtualização do MEmu permite que você jogue milhares de jogos do Android sem problemas no seu PC, mesmo os com gráficos mais intensivos.
Tela maior com gráficos melhores; Longa duração e sem limitação de bateria ou dados móveis.

Suporte completo ao Mapaeamento de Teclas para controle preciso do teclado e mouse ou gamepad.

Várias contas de jogos ou tarefas em um único PC de uma só vez com o Gerenciador de várias instâncias.
Pronto para jogar?