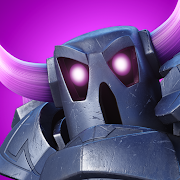 Características de Clash Quest en PC
Con toda tu pasión para jugar Clash Quest, no se supone que tus manos estén limitadas en una pequeña pantalla de tu teléfono. Juega como un profesional y obtén el control total de tu juego con el teclado y el mouse. MEmu le ofrece todas las cosas que espera. Descargar y jugar Clash Quest en PC. Juega todo el tiempo que quieras, sin más limitaciones de batería, datos móviles y llamadas molestas. El nuevo MEmu 8 es la mejor opción para jugar Clash Quest en PC. Preparado con nuestra experiencia, el exquisito sistema de keymapping preestablecido convierte a Clash Quest en un verdadero juego de PC. Codificado con nuestra absorción, el administrador de instancias múltiples hace posible jugar 2 o más cuentas en el mismo dispositivo. Y lo más importante, nuestro exclusivo motor de emulación puede liberar todo el potencial de su PC, hacer que todo sea más fluido. Nos importa no solo cómo juegas, sino también todo el proceso de disfrutar de la felicidad de los juegos.
Capturas de pantalla y Vídeo de Clash Quest PC
Descargar Clash Quest en PC con MEmu Android Emulador. Disfruta jugando en la pentalla grande. Enter Clash Quest, a turn-based battle game made by the creators of Clash of Clans and Clash Royale!
Información del Juego
Enter Clash Quest, a turn-based battle game made by the creators of Clash of Clans and Clash Royale!
Battle bosses in epic puzzle matches to progress across a chain of undiscovered islands with our shipwrecked heroes. Group and match your troops on the battlefield to smash defenses and defeat legendary bosses from the Clash universe. Unleash iconic spells like the Log and Fireball!
Strategy is key in beating bosses big and small. Can you defeat the likes of bosses like Papa Dragon along the way? Join forces with the rest of your crew and progress together as you crush your enemies! Every win is a win for you and your crew.
Battle at your own pace, make strategic decisions, and choose your combinations carefully to set up for satisfying wins. Avoid fire from cannons, X-Bow, and Inferno Towers. Light it up with wizards, charge with baby dragons, and blitz with barbarians. Collect rare loot and upgrade your team with epic gear to unlock more abilities!
Match, charge, and crash into victory!
Features:
Strategy and Puzzle Solving
• Unleash powerful attacks when you match more troops, but be careful you don't run out!
• Turn based gameplay lets you strategize and plan ahead to create effective combos to attack
• Use spells like Fireball, Swap, Charge, and Log to tilt the odds of victory in your favor
Equip and Upgrade
• Collect and upgrade your favorite Troops and Spells
• Discover and equip powerful items to power-up your abilities, upgrade your firepower
Team Up for Battle
• Join a crew or form your own with other players online
• Strategize each big battle. Draw your strengths together in every fight
• Plan ahead and chat with other crew mates to lay out the greatest attacks
• Chat, earn loot and progress through the islands together
• Battle and defeat epic bosses together around the globe!
Battle for Glory
• Compete in the Leagues to and to earn more loot!
• Clash your way to the very top of a worldwide leaderboard
• Show off your skills and see if you have what it takes
Familiar Faces, New Clash Tactics
• Deploy troops, tactics, and spells to attack!
• Encounter classic Clash defenses such as Mortar, Inferno Tower, and X-Bow
• Battle newly discovered bosses like the Goblin King, Papa Dragon, Lava Golem, and more!
Privacy Policy:
http://supercell.com/en/privacy-policy/
Terms of Service:
http://supercell.com/en/terms-of-service/
Parent's Guide:
http://supercell.com/en/parents/

Cómo Descargar Clash Quest en PC
1. Descargar el instalador de MEmu y finalice la instalación

2. Iniciar MEmu y abrir Google Play en la página de inicio

3. Buscar Clash Quest en Google Play

4. Descargar y instalar Clash Quest

5. Hacer click al icono para iniciar

6. Disfruta jugando Clash Quest en PC con MEmu
Por qué usar MEmu para Clash Quest
MEmu App Player es el mejor emulador de Android gratuito y 50 millones de personas ya están disfrutando su magnífica experiencia jugando en Android. La tecnología de virtualización de MEmu te permite jugar a miles de juegos Android suavemente en tu PC, incluso los más intensivos gráficamente.
Pantalla más grande con mejores gráficos; Larga duración, sin limitación de batería o datos móviles.

Soporte completo de keymapping para un control preciso del teclado y el mouse o gamepad.

Múltiples cuentas de juegos o tareas en una sola PC a la vez con el administrador de instancias múltiples.
¿Listo para jugar?