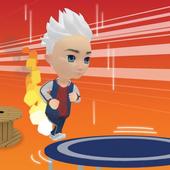 Features of Пол - это лава! on PC
With all your passion for playing Пол - это лава!, you hands are not supposed to be limited on a tiny screen of your phone. Play like a pro and get full control of your game with keyboard and mouse. MEmu offers you all the things that you are expecting. Download and play Пол - это лава! on PC. Play as long as you want, no more limitations of battery, mobile data and disturbing calls. The brand new MEmu 8 is the best choice of playing Пол - это лава! on PC. Prepared with our expertise, the exquisite preset keymapping system makes Пол - это лава! a real PC game. MEmu multi-instance manager makes playing 2 or more accounts on the same device possible. And the most important, our exclusive emulation engine can release full potential of your PC, make everything smooth.
Screenshots & Video of Пол - это лава! PC
Download Пол - это лава! on PC with MEmu Android Emulator. Enjoy playing on big screen. A4 FLOOR IS LAVA - an application based on the challenges of the famous blogger Vlad A4!
Game Info
A4 FLOOR IS LAVA - an application based on the challenges of the famous blogger Vlad A4! Hot lava, obstacles, adrenaline and ... a flying Lamba! - An incredible drive and a whole range of positive emotions are guaranteed! Compete with your friends, have fun and have fun! In the game, you will not only have to escape from the suddenly appearing lava, but also earn coins. After all, they can be spent on pumping items and buying new characters. This will greatly increase your chance of survival! And in order to escape from the lava it was even more interesting, challenges await you in the game. For example, collect 3 hearts, fly 2 times on a lamba, or earn at least 100 points. For each completed challenge you will receive a reward;) ★ Character selection Glent-athlete, Kobyakov in a raccoon costume, Vlad in a turtle costume, an evil clown, a hunter, a strong man and many others ★ Flying Lamba ★ Extra lives ★ Score Multiplier ★ Leaderboards ★ Cool graphics ★ Not boring surroundings - subway, hangar A4, shopping center Hold out for the maximum amount of time and set your own survival record! Good luck with the game! And remember, the floor can turn into lava any second! Do not forget to write in the comments if you liked the application. We read every review and are always open to the wishes and ideas of the players! Tell your friends about the app and share your records on social networks!
How to Download Пол - это лава! on PC
1. Download MEmu installer and finish the setup

2. Start MEmu then open Google Play on the desktop

3. Search Пол - это лава! in Google Play

4. Download and Install Пол - это лава!

5. On install completion click the icon to start

6. Enjoy playing Пол - это лава! on PC with MEmu
Why Use MEmu for Пол - это лава!
MEmu Play is the best Android emulator and 100 million people already enjoy its superb Android gaming experience. The MEmu virtualization technology empowers you to play thousands of Android games smoothly on your PC, even the most graphic-intensive ones.
Bigger screen with better graphics; Long duration, without limitation of battery or mobile data.

Full Keymapping support for precise control of keyboard and mouse or gamepad.

Multiple game accounts or tasks on single PC at one time with Multi-Instance manager.
Ready to Play?