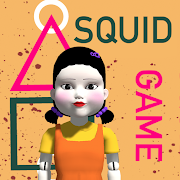 Features of Squid Game Final on PC
With all your passion for playing Squid Game Final, you hands are not supposed to be limited on a tiny screen of your phone. Play like a pro and get full control of your game with keyboard and mouse. MEmu offers you all the things that you are expecting. Download and play Squid Game Final on PC. Play as long as you want, no more limitations of battery, mobile data and disturbing calls. The brand new MEmu 7 is the best choice of playing Squid Game Final on PC. Prepared with our expertise, the exquisite preset keymapping system makes Squid Game Final a real PC game. Coded with our absorption, the multi-instance manager makes playing 2 or more accounts on the same device possible. And the most important, our exclusive emulation engine can release full potential of your PC, make everything smooth. We care not only how you play, but also the whole process of enjoying the happiness of gaming.
Screenshots & Video of Squid Game Final PC
Download Squid Game Final on PC with MEmu Android Emulator. Enjoy playing on big screen. Welcome to this amazing hyper casual running game called 'The Squid Game'.
Game Info
Welcome to this amazing hyper casual running game called 'The Squid Game'. Squid game is a 3D action adventure survival royale game where you battle against your other players to win money!
Squid Game challenge for Android. Play Round Six mini games for win.
Game for The Squid Game! Are you going to accept the invitation? The games are about to begin!
- Follow the instructions and quickly get to the game finish line.
- Don't get disqualified End or Die! Winner has it all!
- Follow your character's head movements!
- Download Squid Game now! Be the last survivor and get coins in this challenging game. Let's start your challenge now!
- If you love Squid Game, please rate 5 stars.
Games:
- Red Light, Green Light
- Sugar Honeycombs
- Tug-of-war
- Marbles
- Glass Stepping Stones
- The Squid Game
and more.
Attention Game Lovers! Your Favorite squid game is here. Knock Down your competitors in squid game. Enjoy Real Fun Of Squid Game by following the instruction and don't be late else you are dead. If you want to get prizes don't be eliminated from squid game Challenge.
How to Play Squid Games - The Game.
1:- Follow Red & Green Lights
2:- When Green light is On Run..
3:- When Red Light is On Stop Immediately
4:- Reach the winning Point with in given time.
Squid Game is the best Runner Game You ever Played.
So what you are waiting for? Download Squid Game and Challenge yourself.
Hint!
Focus on Gameplay music....
Why This Game:
Red light, green light game mode.
Crazy Fun Elimination Game
Fun Endless Game-play
3D Graphics
Simple and easy to play
Great time killer
Unlock New ITEMS
Win money, unlock accessories and items!
Stand out and be the best!
❓❓ How to play ❓❓
When the green light comes on, you will run to the finish line with other players. Once the red light comes on, you will need to stop and stand still. Anyone that does not stop will be ELIMINATED. Those who win, will win cash (to unlock new accessories) and get on the next round which gets harder and harder with tougher players.

How to Download Squid Game Final on PC
1. Download MEmu installer and finish the setup

2. Start MEmu then open Google Play on the desktop

3. Search Squid Game Final in Google Play

4. Download and Install Squid Game Final

5. On install completion click the icon to start

6. Enjoy playing Squid Game Final on PC with MEmu
Why Use MEmu for Squid Game Final
MEmu Play is the best Android emulator and 100 million people already enjoy its superb Android gaming experience. The MEmu virtualization technology empowers you to play thousands of Android games smoothly on your PC, even the most graphic-intensive ones.
Bigger screen with better graphics; Long duration, without limitation of battery or mobile data.

Full Keymapping support for precise control of keyboard and mouse or gamepad.

Multiple game accounts or tasks on single PC at one time with Multi-Instance manager.
Ready to Play?