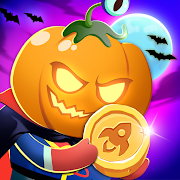 Features of Coin Universe on PC
With all your passion for playing Coin Universe, you hands are not supposed to be limited on a tiny screen of your phone. Play like a pro and get full control of your game with keyboard and mouse. MEmu offers you all the things that you are expecting. Download and play Coin Universe on PC. Play as long as you want, no more limitations of battery, mobile data and disturbing calls. The brand new MEmu 8 is the best choice of playing Coin Universe on PC. Prepared with our expertise, the exquisite preset keymapping system makes Coin Universe a real PC game. MEmu multi-instance manager makes playing 2 or more accounts on the same device possible. And the most important, our exclusive emulation engine can release full potential of your PC, make everything smooth.
Screenshots & Video of Coin Universe PC
Download Coin Universe on PC with MEmu Android Emulator. Enjoy playing on big screen. Depleted Resources, Desolated Planet Earth!
Game Info
Depleted Resources, Desolated Planet Earth!
Miners from all around the world gathered in the quest for a new homeland!
Explore a variety of planets in the Coin Universe and affiliate with new alien friends~
Ladies and Gentlemen! We are waiting for you just before we lift off into the Coin Universe!
Coin Universe Tips!
1) Spin the slot in Coin Universe to get more coins.
Or you may loot other miner's coins by attacking or raiding their planets!
Of course, remember that they can do the same to you, so be careful!
2) Upgrade the planets of your discovery by using Coins.
When you complete all the upgrades, the planet will become yours. Become the Planet Master!
3) Upgrading planets will let you meet alien friends. They will manage your planets for you!
4) Upgrading planets will allow you to collect various treasures.
Keep in mind that collecting 'Cards' is always good. As they will give you opportunities to acquire more Spins and Coins in return as rewards!
5) Ooops~ you still have a friend that didn't join Coin Universe yet?
Don't worry! You can always use the Invite Friends function to keep them updated in the new trending Universe!
6) Everyday in Coin Universe is fully packed with various events that offer Free Coins & Free Spins and will make your time in Coin Universe a worthwhile expereince!
7) Oh, I almost forgot one important thing.
Unique planets exist in Coin Universe. We call them, Special Planets.
One who gather more Special Planets will also gain much power in Coin Universe.
8) Last but not least! There's no turning back! In Coin Universe, we offer you a lifetime of enjoyment!
Follow us on Facebook for updates!
https://www.facebook.com/coinuniversegames/

How to Download Coin Universe on PC
1. Download MEmu installer and finish the setup

2. Start MEmu then open Google Play on the desktop

3. Search Coin Universe in Google Play

4. Download and Install Coin Universe

5. On install completion click the icon to start

6. Enjoy playing Coin Universe on PC with MEmu
Why Use MEmu for Coin Universe
MEmu Play is the best Android emulator and 100 million people already enjoy its superb Android gaming experience. The MEmu virtualization technology empowers you to play thousands of Android games smoothly on your PC, even the most graphic-intensive ones.
Bigger screen with better graphics; Long duration, without limitation of battery or mobile data.

Full Keymapping support for precise control of keyboard and mouse or gamepad.

Multiple game accounts or tasks on single PC at one time with Multi-Instance manager.
Ready to Play?